Benue Youth Summit 2020: Gov Ortom urges youths to take advantage of ICT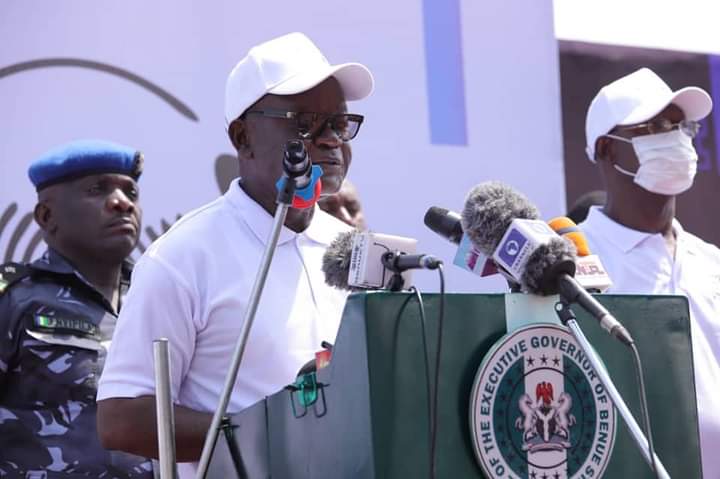 Benue State Governor Samuel Ortom has urged youth in the state to key into Information Communication Technology, ICT revolution, saying it is a dependable path to self reliance.
The Governor who gave the charge today at Aper Aku Stadium Makurdi while declaring open the Benue Youth Summit 2020 said the ICT and digital revolution has created new opportunities that previously existed only in science fiction.
He noted that due to Benue's comparative advantage in agriculture, his administration is making deliberate efforts to support farmers through subsidy on fertlizer and farm machinery such as tractors.
He also encouraged youth to take advantage of his government's partnership with Bank of Industry to access loans, which are at five per cent interest to start their businesses through agriculture value-chain – production, processing and marketing.
The Governor told the youth that preparation is key to winning, as wihout it, it may be difficult to seize or even see opportunities.
He explained that the instant summit is about closing the gap between now and the future.
Governor Ortom assured that his government is keen to helping youth of the state as they prepare to seize the future that is now upon them.
"We are keen to engage with you (youth) to better understand how we can better support their quest to bridge the gap between the present and the future," the Governor stated, adding that the summit is not a platform to hear from government officials.
"The summit is a forum for you to share your perspectives, to share how you see yourselves grabbling hold of your future and to share how you see the government and others contributing to that.
It is an opportunity for us officials to listen carefully as you discuss the issues that are important to you and what you believe can be done about them.
Our expectation is that there will be a careful mapping of the specific needs of the different categories of the state's youth in order to ensure that empowerment inteeventions are targetted and effective," the Governor counseled.
In his goodwill message, Minister of Special Duties and Inter-Governmental Affairs Senator George Akume commended the state government for the initiative and hoped it would be sustained.
The former Benue Governor, who was represented by Engr. Joseph Utse, likened youth to back bones of institutions with the capacity to make things happen.
According to Akume, the power of youth must be positively utilised in the area of health, education and empowerment towards achieving peace.
He noted that the importance of a youthful population cannot be overemphasised and the need for creation of a conducive atmosphere for them to maximise their potentials.
Akume opined that Benue youth have a huge role to play in national development and must not settle for analysis but rather rise up and take active role in the scheme of affairs in the country.
He challenged Benue youth to thrive to be good ambassadors of the state and always position themselves for positive change.