Now That Parents Of Conjoined Twins Needs Help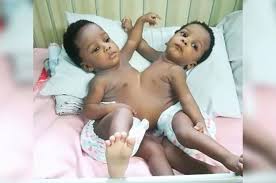 Barely one month after a conjoined twins; two sisters,Mercy and Goodness from Mararaba, Nasarawa State who were joined in the chest and abdomen, were successfully separated through surgery  at the National Hospital, Abuja, another conjoined twins need urgent assistance.
The latest conjoined twins were born to the family of Ukpo Oka and Mrs Tasala, of Udegen Beki, in Udege Development Area in Nasarawa local government of Nasarawa State.
The female conjoined twins were born on April 14, 2019, at a private hospital after a successful cesarean session (CS) on the mother at a private hospital in Nasarawa town.
Revealed that the twins are joined in their abdomen to the chest and are currently at the amenity ward of FMC Keffi.
Leadership Sunday gathered that the nine months old conjoined twins were due for surgery in November last year, but the poor family can't afford it due to financial constraint.
Senior brother of the twins, Mr Isa Ukpo, who spoke to our correspondent on behalf of the parents, said since the conjoined twins were born, they got help from some individuals.
"When they were born we reported to our traditional ruler, the Osu Ajiri, Dr Bala Usman and Nasarawa council chairman.
"The Osu Ajiri, responded swiftly by assisting us with money and aiding us to be transferred from the hospital in Nasarawa to FMC Keffi, where we have been since last year.
"We also got financial support from Dr Joseph Kigbu, via FMC account and few individuals who are helping us in one way or the other.
"So far, we have spent over N800,000 since they were born last year. We are appealing to government and public – spirited individuals to assist us for the conjoined twins to be separated," he said.