The Gad Peter Interview: My Idea Of Politics Is People Oriented, Development Focused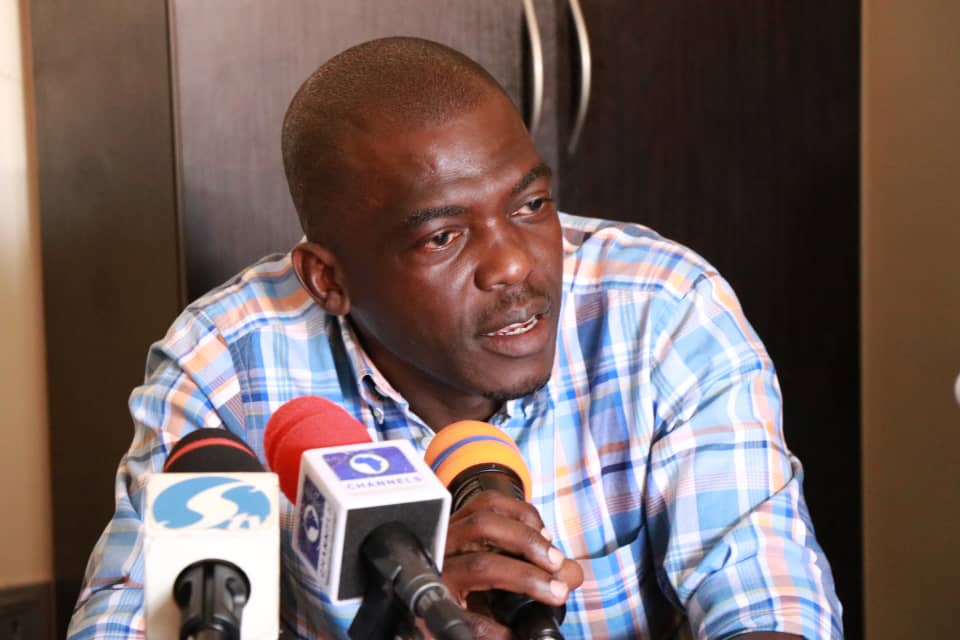 In an interview with the AFRIPOST Editor, David Abakpa, one of the leading Chairmanship Aspirants of Ogbadibo LG Council under the Peoples Democratic Party (PDP), Comrade Gad Ameh Peter spoke about his political ambition to better the lives of Ogbadibo people.
Gad is one of the four aspirants who have purchased interest form to run for the Ogbadibo Council Chairmanship election under the Peoples Democratic Party, PDP in the postponed Benue State Council elections.
Ogbadibo is made up of three large communities (Otukpa, Owukpa and Orokam). Elective positions in the Local Government have been on rotational or zoning base among the three communities. This time, the Council Chairmanship election has been zoned to Owukpa to produce the next chairman of the Council and as such, all the four aspirants who have bought the party interest form are from Owukpa community.
Going forward to reduce cost of the election, Owukpa is also expected to present a consensus candidate to the PDP who will contest the election with other political parties featuring candidates in the poll without going through the cost of party primary election.
However, the process to produce a consensus candidate in Owukpa under the ruling party, PDP, has not been easy. This is why four aspirants are currently on the line from Owukpa under PDP but nobody is, so far, ready to step down for the other.
In this interview, Gad spoke on why the position is under serious contention in Owukpa and his idea of politics.
Why has it not been easy presenting the Council Chairmanship candidate for PDP in Owukpa?
Before I attempt to give an answer to your question, let me quickly say the following: First I like to say that the task of making Ogbadibo great again, is achievable and must be a collective effort.
Secondly, the demand and need for someone from Itabono ward 1 to be the next Executive Chairman of Ogbadibo is not a personal demand but a collective community desire and decision. As an individual, I have always been a team player and I will forever support what is meant for the common good, which is why I am fully supporting this struggle and 100% behind my elders and other stakeholders that are leading and standing for the truth and ensuring that we collectively do that which is right and fair.
Thirdly, I will like to say that if we allow this zoning process to be rubbished by few persons and interest, it will definitely become a reference point and it will also affect zoning in Orokam and Otukpa one way or the other in the future and elections in Ogbadibo will become survival of the fittest, and the strongest.
Back to your question. I will say it clearly and loud that the problem we are having is due to selfish interest of individuals. Individual interest is what is affecting the entire process of endorsing a particular candidate for our party, PDP, in Owukpa.
Let me explain why I said it is all about individual interest. First, our party recognises zoning which our father and leader in Benue State, Governor, Dr Samuel Ortom himself upholds. That's both at the party and the state levels. Ogbadibo as a Council also recognises zoning and that's why Otukpa and Orokam have zoned it to Owukpa to produce the next Chairman. In Owukpa, we have two main districts (Itabono and Ehaje) that make up the Community. In Owukpa, there is also existing micro zoning for both traditional and elective positions. You can cross-check this fact. Without going through a long history for want of time, the last elected Council chairman was from Ehaje Ward 1 in Owukpa in the person of Hon Clement Agada and he became chairman under the community micro zoning. So this time again that the Council Chairmanship is being zoned to Owukpa, it is expected, by all standard that the second district, Itabono should produce the candidate. Within Itabono also, the political ward that has never produced a Council Chairman should be the next in line and this is why it's the turn of Itabono Ward 1 to produce our party candidate.
Secondly, because of the individual interest, the current caretaker chairman, Hon Prince Onuh who is from Ehaje Ward 1, the same District and Ward that produced the last Council chairman from Owukpa  has defiled all calls for justices, equity and fairness in the community and vowed to contest the election with aspirants from Itabono. Even though he knows the truth and had earlier approached the Itabono district to "loan" him the chairmanship slot.
Thirdly, it's expected that Owukpa elders and party stakeholders should call the transition chairman, Onuh to order but some are sitting on the fence in absolute silence while others who wish to compromise the truth for personal gains are openly behind him. Even a few party stakeholders from the Itabono District are not left out in this game of compromise. But thank God for other great men and women from Owukpa, Ogbadibo and around the state that are standing for the truth.
I heard some elders and stakeholders saying, "if we don't confuse the process, we won't make money from the aspirants. They need to come and see us". We are also aware that some of the party stakeholders have been allegedly placed on monthly stipend already by the caretaker chairman and promised to further increase the current stipend if he is supported to win the bid. I hope you can now agree with me on my earlier assertion that it's a problem of individual interest.
As one of the aspirants, particularly from Itabono Ward 1, what has been your effort to ensure that the existing micro zoning is strictly adhered to? 
I have been making frantic effort. I have been speaking out and will continue to reach out to people that matter in Owukpa, Ogbadibo and Benue at large. We must not allow personal interest to ruin our community age-long practise and peaceful coexistence. This has been established even before some of us including the caretaker chairman were born. Instead of destroying it, we should build on it. No individual interest should be above that of Owukpa community or any other community.
What's the position of Itabono Ward 1 party executives and stakeholders on the action of the caretaker chairman?
The position of the party EXCOS and stakeholders on the issue is very clear. They are not happy, they don't like it and they frown at it. They have issued different communiqués on this and I am aware that they have also written a complaint letter to the Gov. Ortom and the state party chairman on this issue. Currently, a committee has been set up at the instance of the governor and the party to look into the matter and we are optimistic that justice shall be done to the people of Itabono Ward 1. Although some persons are spending our resources on radio advert to claim that they have been endorsed and I laugh.
What's your idea of politics?
My idea of politics is people-oriented and development focused. Particularly, Owukpa, more than any other community in Ogbadibo is in urgent need of development and sacrificial leadership.
A performing leader and someone with a clear vision can bring a positive change within the first 100 days in office. We should at this point move from making promises to showing capability, achievement and progress made. The progress must be in the direction that impact directly on the life of the people. The people should be able to feel and see those changes and those changes should even be beneficial to the unborn sons and daughters of Ogbadibo.
What would be your focus if you become the council chairman?
First of all, I would like to humbly say I am the only aspirant out of the four who has a manifesto and a clear idea and vision of what and how we can move our LGC forward in the right direction. These documents have been in circulation for the good people of Ogbadibo to read and hold me accountable when in office. None of my fellow aspirants has produced anything to show or tell the people about themsleves or what they will and can do for them, at least for now. Maybe they may come up with something after this interview. Back to your question, my leadership will be geared towards bringing immediate relieves to the people of Ogbadibo.
Areas, where substantial impact would be felt by the ordinary Ogbadibo man, woman or child, is in good and affordable primary health care, good and affordable primary education for ALL Ogbadibo children, portable drinking and cooking water for every village. Women and youth empowerment, rural electrification and access roads as well as security.
Are you sure these can be achieved?
Of course, they can be achieved. One of my strength amongst several others that I will be leveraging on as chairman is my wide network of friends and organisations who are willing to provide some of the basic needs of my people at no cost to the Local government. Teaching aids, boreholes, drugs etc can be obtained from my network alone. And we have started giving out some of those supports. In the next few weeks, I will be out of the country and discussing the needs of my people and getting more support for them is top on my talking point.
Do note also that there are several wells to do Ogbadibo sons and daughters scattered all over the world who are willing to give back to their fatherland but desire someone with the drive to articulate these issues and provide a clear leadership in getting these things done. This leadership is what I am offering the good people of Ogbadibo.
Then the little funds from the LGC purse can now meet the other areas where outside help could not get to. I am quite optimistic that together, we can achieve a lot, even more than I have set out to achieve.
What is the place of Party stalwarts in the scheme of things with you as chairman to-be?
Thank you for this question. The truth is you cannot get to any position to govern without passing through the political process and structure which is made possible by party men and women. Party men and women shall form the bedrock of my administration because if I do well, the accolades are for the party. If I do poorly, the party will suffer. It is therefore in our collective to work together and ensure we deliver on our manifesto. Party men and women shall be carried along in my leadership and will be allowed to add value to the processes where they can. Round pegs shall be fixed in round holes so that together, we can make Ogbadibo great again.
Thank you for this opportunity