Nigerian Housing Czar, Sam Ogrih Bags Real Estate CEO Of The Year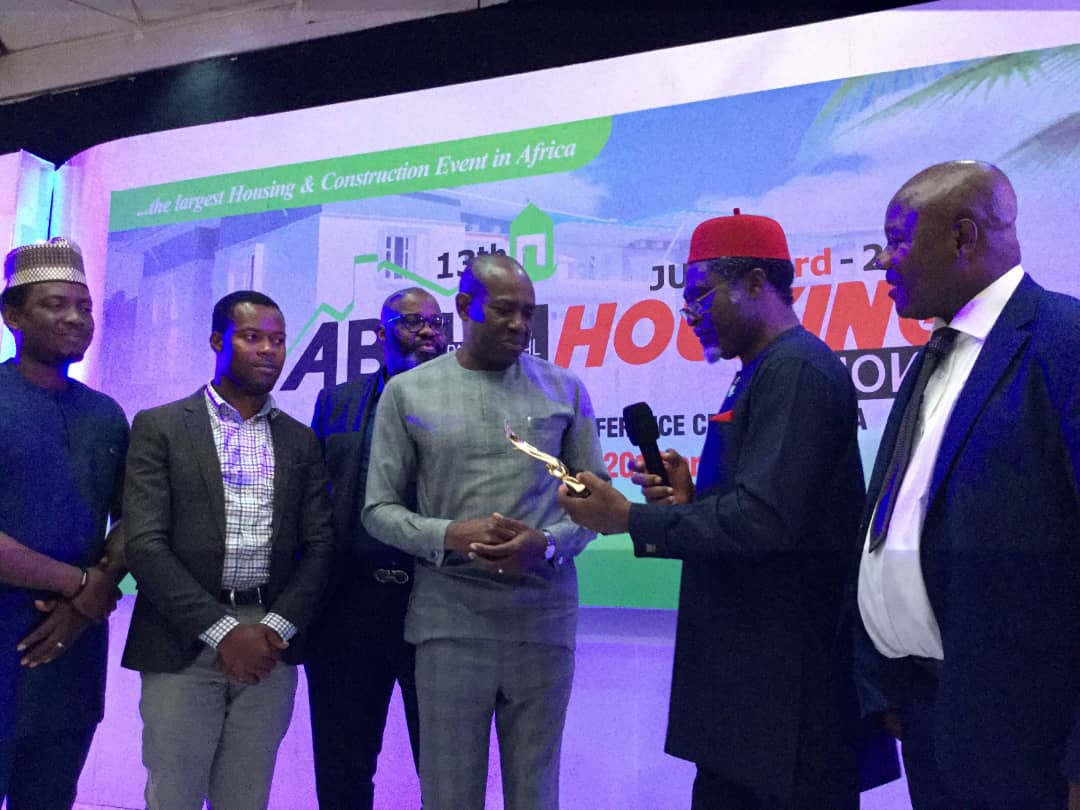 The chairman/CEO, Delta Mega Trend Nigeria Ltd, Mr Sam Ogrih, at the weekend bagged the prestigious CEO Real Estate Company of the Year 2019 award.
The award, which is in recognition of his laudable contributions towards solving Nigeria's housing and infrastructural challenges, was presented to him at the Nigeria Housing Awards 2019 by organizers of the this year's Abuja International Housing Show.
The award nite was chaired by the former Minister of Health, Arc Gabriel Adogun and was attended by notable personalities in the Housing and real estate industry including, the former Deputy Governor of Central Bank of Nigeria, Chief Obadiah Melafiya, Managing Director of Family Homes Funds, Mr Femi Adewale, representative of the President of Nigerian institute of Estate surveyors and valuers NIESV, Chief Emma Ukas Wike amongst others.
Speaking to journalists shortly after receiving the award, Mr Ogrih said, "It's just a sign of telling you to go and work more", adding that "If you are recognized for the little you have done, it means you need to work harder and produce more results."
On what inspired him into the real estate sub-sector, he simply noted, "It's to make life meaningful to people and have a better living."
It would be recalled that the leading real estate czar, Mr Ogrih was recently honoured in the State of Georgia United States of America with an Outstanding Citizenship of the State and House of Representatives respectively by the Secretary of the state.
Sam Ogrih, founded Delta Mega Trend – a Real Estate Development and Civil Engineering works company, in 2009, to help bridge the housing and infrastructure deficit in the country. With offices in Delta, Lagos, Abuja and Houston-Texas, the Company has gained a reputation for blending excellence and profitability for discerning real estate investors.
The company's ongoing real estate development in Warri, Delta State, has in the last three years recorded significant upsurge in price and profitability for investors. It has also been rated the largest and safest real estate development in the South-South part of Nigerian.
Earlier in his opening remark the brain behind the annual housing show, Barr Festus Adebayo stated that, "The Nigerian Housing Awards does not only mark the end of the Abuja International Housing Show 2019 but it is the most elevated platform for recognizing and honouring the outstanding performances by Housing and construction CEOs, public officials, mortgage executives as well as significant contributions by individuals and corporations in the year under review.
"I congratulate the winners tonight and encourage everyone to see the inspiration behind their achievements. After the hard work it time to sit down, relax and party. I will all a wonderful dinner tonight."