African Migrants In Record Numbers Across Latin America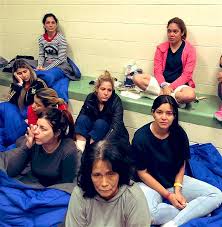 A record number of fellow Africans are flying to South America and then traversing thousands of miles of highway and a treacherous tropical rainforest to reach the United States.
According to Marilyne Tatang, 23, crossed nine borders in two months to reach Mexico from the West African nation of Cameroon, fleeing political violence after police torched her house, she said.
She plans to soon take a bus north for four days and then cross a tenth border, into the United States. She is not alone, Tatang, who is eight months pregnant, took a raft across a river into Mexico on June 8, a day after Mexico struck a deal with US President Donald Trump to do more to control the biggest flows of migrants heading north to the US border in more than a decade.
The migrants vying for entry at the U.S. southern border are mainly Central Americans. But growing numbers from a handful of African countries are joining them, prompting calls from Trump and Mexico for other countries in Latin America to do their part to slow the overall flood of migrants.
As more Africans learn from relatives and friends who have made the trip that crossing Latin America to the United States is tough but not impossible, more are making the journey, and in turn are helping others follow in their footsteps, migration experts say.
Trump's threats to clamp down on migrants have ricocheted around the globe, paradoxically spurring some to exploit what they see as a narrowing window of opportunity, said Michelle Mittelstadt, communications director for the Migration Policy Institute, a Washington-based think tank.
"This message is being heard not just in Central America, but in other parts of the world," she said.
Data from Mexico's interior ministry suggests that migration from Africa this year will break records.
The number of Africans registered by Mexican authorities tripled in the first four months of 2019 compared with the same period a year ago, reaching about 1,900 people, mostly from Cameroon and the Democratic Republic of the Congo (DRC), which remains deeply unstable years after the end of a bloody regional conflict with its neighbors that led to the deaths of millions of people.