Community Policing Style: Kogi Traditional Ruler rewards DPO with Chieftaincy Title [PHOTOS]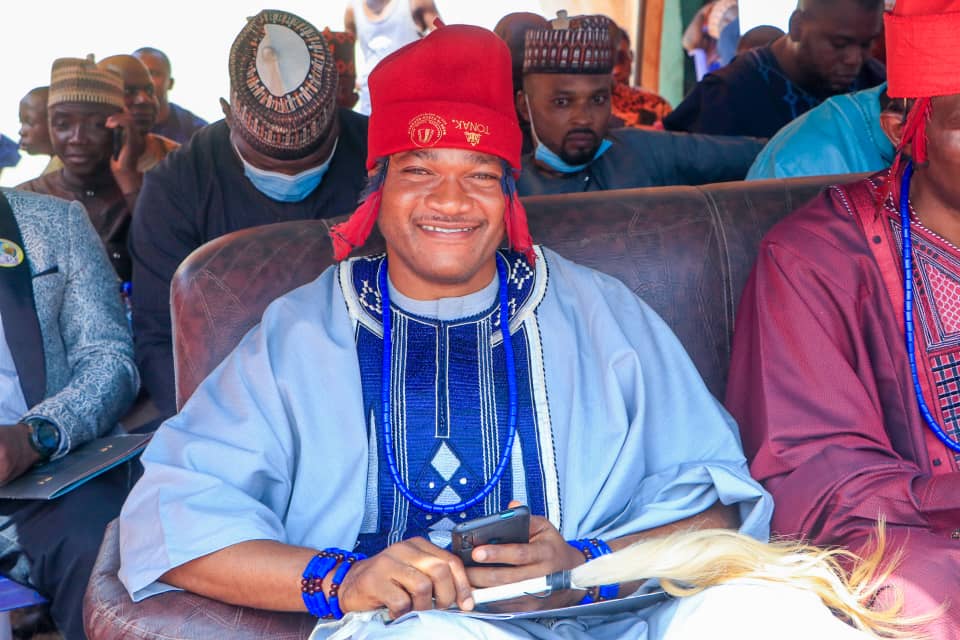 A Traditional Ruler, Ejeh of Olamaboro Kingdom of Olamaboro Local Government Area of Kogi State,  HRH Chief Simeon Ujah Enek'Ojokpuche has recently recognised and honoured a diligent, faithful and honest Police Officer, Superintendent Of Police (SP) Mathias Abah, the immediate past Divisional Police Officer of Olamaboro Police Station.
The Royal Father and his Council of Chiefs awarded Abah a Chieftaincy title, "Oga Onu Ejeh" of Olamaboro Kingdom (Commander of War to Eje) in recognition of his humanitarian services and Community Policing style in Olamaboro autonomous community during his reign as the DPO of Olamaboro Police Station.
According to them, the humanitarian services and Community Policing style, driven by the fear of God, they enjoyed during his short time in office has remained exemplary, indelible and exceptional in the history of the LGA.
In his acceptance speech, Abah said, "I count it a rare privilege to be in the line-up of some dignified "Awardees", and obviously the least of them all.
"However, notwithstanding, I am pleased and feel honoured that after my brief sojourn of about one year and seven months in Kogi State as a Divisional Police Officer (DPO), the Ejeh (King) of Olamaboro LGA ), HRH Chief Simeon Ujah Enek'Ojokpuche, his council of chiefs and the good people of the great kingdom, have heartily invited me for this award/coronation as the "Oga Onu Ejeh" (Commander of War to Ejeh).
"This is in spite of the fact that I have been redeployed from here to another state since July 2020.
Abah attributed the outstanding performance that has earned him the chieftaincy title in the Kingdom to God Almighty.
"I humbly dedicate this honour to God, because the Bible says, "Not by might nor by power, but by my Spirit", says the Lord of hosts. …for it is God who works in me both to will and to do for His good pleasure. Hence, I give all glory to the Almighty (Philipians 2:13)", SP Abah said.
He acknowledged the presence and support of His Excellency, Dr Edward Onoja, the Deputy Governor of Kogi State, who hails from the LGA and was equally in attendance to grace the colourful and epoch-making event saying, "his moral support I enjoyed back then was overwhelming and still very fresh in my mind".
Other awardees in attendance included Dr. Kashim Akoh, Alh. Usman Mohammed, Alh. Momo Isah, Dr. Sanusi Ochiare and Mr Sunday Umoru among others.