Nigerian newspapers headlines Sunday morning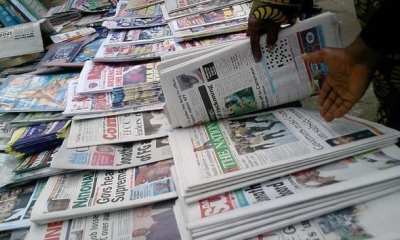 Govs Insist On 42% Federal Allocation To States [LEADERSHIP]
Governors of the 36 states of the federation have maintained their ground for a formula along the lines of 42 per cent federal allocation to states, 35 per cent to the federal and 23 per cent to local government councils.
Chairman of the Nigeria Governors' Forum (NGF) and Ekiti State governor, Dr Kayode Fayemi, who revealed this yesterday, said the governors' insistence was within the context of the proposed new federal structure.
This is just as his Kaduna State counterpart, Mallam Nasir el-Rufa'I, has urged the National Assembly ad-Hoc committee on constitutional review to take advantage of the report of the All Progressives Congress (APC) committee on restructuring and initiate the constitutional and legislative amendments in either piece-meal or comprehensive manner without further delay.
They all spoke at the 50th anniversary lecture of the Centre for Historical Documentation and Research (Arewa House) in Kaduna.
Governor Fayemi who was the guest speaker spoke on the topic, "Unfinished Greatness… Towards a More Perfect Union in Nigeria".
He said, "Again, in arriving at a position on what ought to be in the quest for a more perfect union, I wish to further say that my sentiments are more associated with strengthening the sub-national units in the re-allocation of powers and resources.
"The assignment of functions that would be consistent with a devolved but strengthened federal system would have a short, exclusive federal list focusing on national defence and security, macro-economy, foreign affairs, customs and excise; joint responsibility in respect of certain functions that are currently assigned exclusively to the federal government (for example, internal security and policing) and primary responsibility of the sub-national governments in respect of the other functions in the second schedule of the 1999 constitution whilst the remaining powers devolve to states.
"On revenue collection and sharing, the position of the Nigeria Governors' Forum bears restating. It is that the sharing formula should be reviewed in favour of the states, especially given the argument of devolved responsibilities to the sub-nationals. In the context of the proposed new Federal structure, Governors' have argued for a formula along the lines of 42percent to states, 35percent to the Federal and 23percent to Local Governments".
Establishing the basis for the governors' contention, Fayemi noted that it would be impossible for predatory states to deliver good governance.
He stated: "Yet, important as the power of leadership by example is, until and unless we re-compose the Nigerian State and make it to derive her original consent and legitimacy from the people, then we labour in vain.
"Contrary to the pretensions of neo-liberal economists, without a modern state, there cannot be an economy or society; therefore, before public governance, there must be a modern state in the real sense. A predatory state cannot give birth to proper public governance and a sense of justice and fairness".
Noting that equity, fairness and justice are imperatives of a prosperous and progressive society the NGF chairman observed that peace is not the absence of conflicts within a polity but the presence of social justice.
He pointed out that even though public officers may deceive themselves, the fact remains that the #EndSARS protest and the accompanying massive looting and vandalisation in the past few weeks have brought the illogicalities of the Nigerian state into a sharper focus.
Fayemi said, "Whether your immediate concern is police brutality and the need for police reform or you reflect upon the rationale and the challenges of those who insist that unless and until Nigeria becomes a theocracy, there shall be blood and tears unlimited; whether you look towards the Niger Delta where, despite the amnesty and the industry of graft and greed that it has re-produced, there is a continuous and bloody demand for justice and equity; or you examine the endless pretexts for ethnic strife and blood-letting between the so called indigenous people and the "settlers" in the Middle Belt; whether you scrutinise the regular apocalyptic predictions of highly placed Nigerians about the fate of the country, or you contemplate what would happen if measures are not taken to arrest the drift, you cannot but come to the conclusion that Nigeria needs to be re-created.
"In our quest towards a more perfect union therefore, the main challenge is one of re-creating the union and the basis of its fundamental national association. Unfortunately for us as a people, it is a challenge that has been affected by mutual suspicion and unnecessary brickbats.
"Caught in our politics of difference and otherness, devolution, decentralisation and restructuring often used as synonyms and such other epithets have come to mean different things to different peoples, depending on the ethnic and regional toga they wear. Our age-long distrusts and suspicions of one another are now being tested and contested on these epithets.
"Sixty years may be a long time in the life of an individual. But a sixty-year-old nation is a nation yet in its infancy. Therefore, rather than despair over the failures of the past, I would rather we look ahead with great hopes at the infinite future that lies ahead of us, armed with that immortal admonition from the French West Indian psychiatrist and political philosopher, Frantz Fanon that "every generation must, out of relative obscurity, discover its mission, betray it or fulfil it.
"Over the years, I have heard even presumably informed analysts referred to our country as the mistake of 1914. But was it really a mistake? The American social philosopher, Eric Hoffer argued that divide and rule is most effective when it "fosters a multiplicity of compact bodies – racial, religious or economic – vying with and suspicious of each other."
"Therefore, it is possible to argue that the toxic legacy of the colonial 'divide and rule' strategy may be the reason that we have remained divided even 60 years after their rule has ended. However, to describe this amalgamation itself as a mistake would be wrong, both historically and conceptually.
"Every student of history will agree that as a people, if not as a country, Lord Lugard did not introduce us to ourselves. Long before the white man set his foot on our land, our people have developed an intricate network of relationships. Even though they lived in their various enclaves as independent people, they traded together, they married one another, they fought together as allies in battles and against one another as adversaries.
"Our cultures inter-mingled and produced a rich synthesis of cultures, in such a way that no single culture is left pure and unaffected through new vocabularies, diets and even dress. Many of our empires and kingdoms were also territorial rather than tribal. They luxuriated and thrived on their diversity and formed unions and alliances based on shared understanding and mutual respects".
He continued: "One of the most popular anecdotes that survived from our early efforts at nation building was the one credited to the late Sardauna of Sokoto, Sir Ahmadu Bello, who was said to have retorted that we do not need to forget our differences, rather we only need to recognise and respect them.
"It is not clear to what extent this wise admonition was taken on board by our founding fathers as they tried to grappled with the challenges of nation-building in a post-colonial Nigeria. However, embedded in the notion of "unity in diversity" is a distinct awareness that sameness is not necessarily a precondition for oneness.
"Perhaps, one major area that the successive generation has failed is in the tendency to stigmatise difference and weaponise diversity. We are Muslims, we are Christians, we are animists, we are Idoma, Tiv, Angas, Igbo, Hausa, Yoruba, Kanuri, Fulani and so on. We don't need to apologise for these differences or attempt to hide them. The problem starts when these social categorisations become the boundaries for inclusion or exclusion.
"In the days of the Sardauna Sir Ahmadu Bello, respect for each other's faith was a norm. The late Ambassador Jolly Tanko Yusuf, one of the young technocrats close to the Sardauna once shared a story here at Arewa House of how the Sardauna supported them to establish the Northern Christian Association on the 10th of April 1964. He recalled that he and Mr. Edward Manuso, the then Provincial Commissioner for Sardauna Province wrote a letter to the late Premier and engaged him on the matter without any form of hostility or reprimand. His testimony was equally corroborated by late Chief Sunday Awoniyi that the Sardauna, Sir Ahmadu Bello ensured that Muslims and Christians had equitable access to the corridors of power.
"This spoke to the motto, 'Work and Worship' and to the values of hardwork, accountability, honesty, dedication to duty, selfless service to the people, religious tolerance, foresight and vision. Many of these values cohere to what those from my part of the country know as "Omoluabi" ethos and what is commonly known here as Mutumin Kirki – The concept of the Good Man in Hausa, apology to Tony Kirk-Greene.
"We must therefore appreciate the responsibilities that our destiny has imposed on us. We have to start by first conquering the demon of mutual suspicion and distrust that has poisoned our politics and subverted our will to forge the necessary consensus that is so crucial to marching confidently towards our destiny as a great nation. If we do this, we would have scaled the major obstacle to forging a great nation out of this colonial creation and show the world that we are finally ready to embrace our true destiny as the hope of all black people everywhere."
FG's 774,000 Jobs Begin Today [LEADERSHIP]
The federal government's Special Public Works (SPW) programme aimed at employing 774,000 youths across the 774 local government councils will kick off today, with a formal launch expected on Friday.
The project which was initially slated to commence October 1 was shifted to November after the minister of state for Labour and Employment, Festus Keyamo (SAN) had written a memo to President Muhammadu Buhari, informing him that most of the proposed project sites were still water-logged as the rains had not abated.
However, Tunde Moshood, the special assistant on media to the minister of state for Labour and Employment, told our correspondent over the phone that a formal launch will now be next Friday, November 6.
He said, "Yes, it is going ahead. November first is Sunday, so there can't be an official lunch on Sunday".
He said the Minister of state for Labour, Festus Keyamo will openly declare the commencement of the programme in Delta.
LEADERSHIP Sunday gathered that the programme will start with a test run in 18 states, while other states will join at a later date.
Many successful beneficiaries of the progaramme have received text messages from banks and their local government confirming their participation.
Meanwhile, stakeholders have applauded the move, saying the initiative, if not politicised midway, will give birth to economic prosperity, even as it would reduce in the long run the growing unemployment rate in the country.
The stakeholders who spoke in separate interviews with LEADERSHIP SUNDAY yesterday advised that a systemic, multidimensional economy with a wide approach was important in tackling the growing problem of unemployment.
On his part, the director-general of Lagos Chamber of Commerce and Industry (LCCI), Muda Yusuf, advised that to make the government initiative works, there must be creation of an enabling environment for investors, especially the Micro, Small and Medium Enterprises (MSMEs).
Yusuf said, "We need to focus on factors impeding the performance of these businesses. We need to address infrastructure issues, access to foreign exchange, regulatory challenges, funding, technology, ports customs, taxes, fees and levies, as well as bureaucracy, to mention a few of the constraints.
Power Generation Hits 5,520 MW All-Time Peak [LEADERSHIP]
The Nigerian Power Supply Industry (NESI) has recorded another milestone as it attained an all-time national peak generation and transmission of 5,520.40MW Friday, 30th October, 2020 at 9.15pm.
A statement signed by the general manager, Public Affairs, Transmission Company of Nigeria (TCN) said the new national peak was made possible by continued collaboration among players and the gradual increase in the overall capacity of the industry.
This surpasses the previous peak of 5.459MW announced by TCN 3 days ago to have been wheeled through the grid on 28th October, 2020 by 60.90MW.
TCN said with its current capacity of 8,100MW, it seamlessly transmitted the new peak at a frequency of 50.11Hz. through the national grid.
The statement appealed for more cooperation among players in the power sector value chain for further improvement.
Lekki shootings: Army kicks as judicial panel summons officers, soldiers [PUNCH]
The Lagos State Judicial Panel of Inquiry probing the shooting of #EndSARS protesters at the Lekki tollgate on the night of October 20, 2020 has summoned the army to appear before it, Sunday PUNCH has learnt.
But the army has indicated not to honour any summons or invitation by the panel, except it is from the state government.
The seven-man panel, which began sitting on Monday, is also saddled with the task of probing allegations of brutality by men of the now disbanded Special Anti-Robbery Squad.
A member of the retired Justice Doris Okuwobi-led panel, set up by the Lagos State Government, confided in Sunday PUNCH that the panel had already dispatched an invitation letter to concerned authorities.
"We have summoned several authorities, including the military," the panel member, who spoke on condition of anonymity, said.
On whether the panel had fixed a date for the appearance of the army, the member said, "No date yet. But surely, we are summoning the military, police and everybody relevant to our probe. We have no limitation as to who we are going to summon. We want to get to the root of the case. The panel had agreed that a letter be dispatched to the military authorities."
Lagos govt, not panel, has right to invite us – Army
But when Sunday PUNCH reached out to the Nigerian Army over the invitation sent to it by the panel on the need for it to state its story regarding the incident, the acting Deputy Director, Army Public Relations and 81 Division's spokesperson, Major Osoba Olaniyi, said it was not the duty of the judicial panel to invite the Army to answer questions regarding the reported shooting of unarmed protesters at the Lekki toll plaza.
Olaniyi stressed that the army intervened in the Lekki tollgate incident based on a request from the Lagos State Government and that it would only appear before the panel based on same directive from the state government.
He said, "If we receive a letter from the state, we will go. Are we not under civil authorities? Are we not part of Nigerians? Have you forgotten that we did not go there (Lekki tollgate) on our own?
"It is not the duty of the members of the panel to tell us that. If the state wants the (81) Division to come, they will write and we will oblige. See, if they have written to the division, it is our duty to go. It is not for them to go through the media as if we are scared of coming.
"It is the state government that constituted that panel of inquiry. So if anybody needs to get in touch with us to come, it is still the state and not members of the panel."
Summons, duly signed by judge, can't be disregarded —  Panel member
But reacting to Olaniyi's argument that the army would only honour an invitation by the state government, the panel member who spoke with Sunday PUNCH, on condition of anonymity said, "An invitation has been sent by the panel to 81 Battalion of the Nigerian Army at Bonny Camp and 82 Division on Kofo Abayomi.
"The laws guiding the panel give it power to summon anybody. Once a summons has been sent, it must be obeyed. If on the day the army is supposed to appear, they don't come, then the panel will consider other alternatives.
"If the military is under civil authority, I don't see how a judge will sign a summons and it will be willfully disregarded. May such day never come in Nigeria again."
The army had come under heavy criticism over how its personnel, while enforcing the curfew imposed by the state government, shot peaceful protesters at the Lekki Tollgate on October 20, 2020, killing some and leaving others with varying degrees of injury.
The army authorities, in a tweet on October 21, initially denied that its personnel were at the scene of the shootings. The army, via its Twitter handle, described the report as 'fake news.'
But, following evidence and pressure from different individuals and groups, the army later admitted that its personnel were at the scene but were invited by the state government. This constrasted the earlier submission of the state governor, Mr Babajide Sanwo-Olu, who in the morning of October 21 blamed the shootings on "forces beyond our direct control."
The Army denied shooting the protesters while the governor also said no one was killed in the exercise, but available information showed that people were killed. Amnesty International also said it had evidence that no fewer than 12 protesters were killed at the Lekki tollgate and Alausa areas of the state.
The army deputy director had said, "From the onset of the #EndSARS protest, there was no time personnel of the 81 Division, Nigerian Army, Lagos was involved. However, the decision to call in the military was taken by the Lagos State Government after a 24-hour curfew was imposed. This was as a result of the violence which led to several police stations being burnt, policemen killed, suspects in police custody released and weapons carted away.
"The situation was fast degenerating into anarchy. It was at this point that the Lagos State Government requested the military to intervene, in order to restore normalcy. The intervention of the military followed all laid down procedures for internal security operations. And all the soldiers involved acted within the confines of the Rules of Engagement for internal security operations."
An entertainer, Obianuju Ude otherwise called DJ Switch, who was at the scene, later released a video where she said no fewer than 15 persons were killed, adding that the soldiers took away the corpses in their vans. She pointed out that policemen were also involved in the shooting. The outcry  made the governor to extend the terms of reference of theseven-member judicial panel to include investigating the Lekki shootings.
Why we can't disclose identities of personnel deployed to Lekki tollgate – Army
Meanwhile, the 81 Division's spokesperson has said the military will not disclose the number of its personnel deployed in the Lekki tollgate on the night of the incident.
Asked the number of personnel involved, Olaniyi said, "It is against operational security. We don't give that. It is against the policy of operational security. There is no problem here. The picture some people paint, as if we are fighting with the state government, is wrong."
I lost two-month pregnancy to SARS' torture, teacher tells panel
Hearing by the Lagos State Panel of Judicial Inquiry into complaints of human rights violations by men of the disbanded SARS continued on Saturday with a schoolteacher, Ndubuisi Obiechina, narrating to the panel how she was arrested in 2017 on an accusation of being a thief and a kidnapper. She said she was tortured by SARS men till she miscarried her two-month-old pregnancy at the time.
The schoolteacher, who appeared before the Okuwobi-led panel alongside her husband, Ogechukwu, told the panel that she was detained and tortured for 22 days till she lost her pregnancy.
She named officers Phillip Rilwan, Christian and Haruna Idowu as some of her torturers.
Northerners threatening to kill me silent on Buhari's failure, Boko Haram — Aisha Yesufu [PUNCH]
There is a viral picture of you with one hand raised which has been a symbol for Nigerians protesting against police brutality. How does that make you feel?
It doesn't make me feel anything because it is something I have done over and over again, at any protest, where you have the police trying to brutalise or attack people. I have always had my fist in the air and stood like that. So for me, it is not something I sit down to think about. It is just a bit weird that in this particular case, it went viral and people look at it differently. But I'm happy with the fact that a lot of people take courage and solace from that picture and know that no matter what is being thrown at them by the government, they can afford to resist, be defiant and continue to stand for something good for themselves and the country.
Now that the #EndSARS protests have stopped, following which there was so much looting and vandalism; what is the status of the agitation?
The looting was caused by the government and done by its sponsored thugs. What we have learnt is that Nigerians are always ready to blame the victim rather than the perpetrator and that needs to stop. We need to put the blame squarely where it should be put – and that is on the government. They have ascribed the looting to the #EndSARS protesters who were peaceful and organised. Even when the government brought thugs to attack them, and looting and destruction of their belongings started under the watchful eyes of security agents, they did the right thing. We saw military vehicles transporting thugs, policemen and other security agents who supervised the activities of the thugs. They attacked the #EndSARS protesters and injured some of them. But Nigerians kept quiet. Even when some of the thugs were apprehended by the #EndSARS protesters and handed over to the police, the police refused to arrest them. Then the thugs suddenly turned on the government and started attacking and looting public and private property. The government must take full responsibility for that.
In Abuja, we saw as thugs were deployed everywhere inside Abuja, including where the Central Bank of Nigeria headquarters is located. They attacked protesters and burnt their vehicles. The most important thing is that citizens understand they have rights. The youth understand that they have a voice and have to be active. They are doing that now. There may not be street protests for now but a lot of activities are going on. The online protesters are still at it and panels have been set up. Protesters are strategising and watching all these. The protests would have been wrapped up within three days if the government had been sincere in doing the things that needed to be done but the government was silent.
Many people are saying the protests should have been stopped after the government conceded and disbanded SARS, and that the protesters should have engaged the government to see how the other demands would be met. They think that would have prevented the looting from happening…
Like I said earlier, Nigeria is a nation where people blame the victim rather than the perpetrator. Instead of blaming the government for killing innocent citizens who were peacefully protesting, some Nigerians want to blame the protesters and this is not the first time it has happened. When the government killed Shiites (members of the Islamic Movement in Nigeria), Nigerians blamed the Shiites. When it killed members of the Indigenous People of Biafra, Nigerians blamed IPOB members. This is an anomaly that has consistently happened and it happens to people in an abusive relationship. Nigerians are in an abusive relationship with their government so they would rather be on the side of the abuser so that hopefully, one day the abuser doesn't turn on them but it doesn't always happen like that.
Also, the #EndSARS protesters were always at the negotiating table. It is the government that was never there and it has shown absolutely no leadership. We saw it in the way the government used brute force. The protesters were strategic right from day one. They had their demand and when the government said it had disbanded SARS, the protesters immediately brought out what they call #5for5 demands. But there was no action by the government and they said they wanted action. By the way, the government said the same thing in December 2017, when Prof Yemi Osinbajo was the acting President, then also in 2018 and in 2019 and now in 2020, so saying they disbanded it didn't mean anything because they had said similar things in the past.
Right now, a lot of people have put out pictorial and video evidence to show that SARS officers are still on the streets and haven't been recalled. And we need to ask: who is in control as it seems the government has no control over SARS? They consistently say one thing and do another thing. I think Nigerians need to know that the government is meant to serve them and not kill them.
Speaking about killings, the protesters have alleged that there was a massacre at Lekki tollgate, carried out by soldiers but the state government has insisted that only two persons died. Some people are beginning to doubt that many people were killed because not many people have come out to say their loved ones were shot dead. What do you think?
People will doubt anything as long as it doesn't happen to them. That is why I like to tell people that yesterday's victims were once survivors and today's victims are yesterday's survivors and tomorrow's victims are today's survivors. This is not the first time that the government has 'gaslighted' (to manipulate someone into doubting their sanity) the people. When Chibok girls were kidnapped by Boko Haram in 2014, what did the government first say? They said nothing like that happened. Up till today, there are some people who still think that it didn't happen. When the parents of the girls came out, some said they were actors. Lagos State Governor, Babajide Sanwo-Olu, told an international media organisation that indeed there was military involvement. Initially, the military denied that they were there and later, they said they were there to enforce compliance with the curfew imposed by the state government. Little by little, the truth is coming out but what they do is to put doubts in the minds of people.
You have been receiving death threats and more recently a Kannywood actor was said to have described you as an infidel, an allegation he has denied. Are you sometimes afraid for your life?
No, I am not afraid for my life; we are all dead in Nigeria. Is this life? Today, there is nobody living in Nigeria; we are all surviving. What we have here is not life. Come on, we are all going to die anyway. I was 10 years old when I came to the realisation that the worst thing any human being could do to me was to kill me and it is not really the worst thing because I would die anyway. I am 46 now and will be 47 in December so I am not threatened by some people with misplaced priorities, who do not know their enemies. With all the killings going on in the North, which one of them has 'called out' (to draw critical attention to someone's unacceptable behaviour) the President (Maj Gen Muhammadu Buhari [retd.]), who has failed woefully to secure lives and property or condemned Abubakar Shekau (Boko Haram leader), but they feel Aisha Yesufu is their enemy.
You are also often trolled on social media, how do you deal with it?
I really don't care what people say. I say that insults and compliments are people's opinions and not my reality so people have the right to say whatever they want to say. I don't allow the insults to get to my heart neither do I allow the compliments to get to my head. If I don't get angry when people praise me and pray for me, why should I get angry when people insult and curse me? And also, some of these people are government-paid trolls.
A lot of people in the North are saying that I should be killed but they lack the guts to criticise the person who is failing them and has allowed killings to happen, not just in the North-East but everywhere – Southern Kaduna, Sokoto, Zamfara, and Katsina states. Instead of calling out the President, they  are quiet because they are afraid to do that. The sycophants will rather say he is working and then praise him. The primary victims of these things should criticise the President. They should forget about the sentiments that he is a northerner. And the Imams that used to preach against the government when Goodluck Jonathan was the President, no longer do that because Buhari is from the North.
Such people are the infidels. I'm a Muslim and I know that Islam is basically against oppression. They always say that the people who support tyranny or oppressive leaders will not 'smell' paradise so they are the ones who don't understand Islam. Their sycophancy is their problem. I am waiting for them to put a bounty on Shakau's head, denounce Boko Haram and make demands of the President who has failed to secure the North and end insecurity because we can all see that he has failed. He has failed every region, he doesn't care, he gives this failure in equal doses.
Some people on social media have alleged that your husband was found to have embezzled public funds and taken cars away when he left office as a public servant…
If they say my husband has stolen money, then he should go to jail, let us prosecute him. Come on, if you have evidence, bring it out. I do know for a fact that the person they call my husband is not my husband. His name is Yusuf while my husband is Yesufu. But they decided that because he was a public servant and since there is this other man who was accused of corruption and was sacked by the former Minister of Health before he was brought back by Buhari and finally sacked, it must be my husband. The person they refer to was indicted for misappropriating about N900m and was said to have taken away some cars, so they decided that it was my husband.
I don't know him and they know that he is not my husband but for them, it is to put the news out there and try to discredit me. You can't discredit me, I will use my mouth anytime. Even if I have done something wrong, come out with the evidence, I will face the wrath of the law. I hold myself to a higher standard than I hold anyone. I am proud of the fact that my husband worked in public service and protected his integrity, name and the assets of this nation. He put everything on the line. I dare them to go ahead and publish anything. They have tried that many times and it is not only during this administration; even the last administration tried it but they could not find anything to implicate my husband. When my husband became a public servant, I wrote him a letter. I said whatever shenanigans they do in government with public funds, you must never touch any dime and I know the kind of man I married. He spent eight years in public service and they have nothing against him. Come on, if they have something against him, they would have brought it out by now. The government is still searching anyway. I say good luck to them because I know they are not going to find anything.
You have always been critical of the Buhari regime, doesn't your husband sometimes put pressure on you to stop or not be so openly critical of the regime?
No, he doesn't. I have 100 per cent family support. And I have nothing to hide. That is it; it is when you have something to hide that you find it hard to say the truth. I don't go to anybody's office to ask for contracts. They have tried so hard, it is not that they haven't tried. I have never done a government contract in my life. I have never gone to ask for favour. Several times I have been offered certain things. For example, while I was fighting for the Nigeria Immigration Service in 2000, I got a call and was offered three slots. I said, 'Yes, I have younger brothers and sisters who need jobs but I want them to open newspapers and see it there and apply. I don't want them to go through some connection or whatever.' That way, I can look anybody in the eye and call them out. I don't curry favour with them. They felt what they could use was my husband's name. They felt anybody who was a public servant must be corrupt but it is wrong. There are a lot of people who served the government and protected the assets of Nigeria and we need to celebrate them. I want the world to celebrate my husband. Because they have skeletons in their cupboard, they assume everybody does also.
As a youth corps member in 2000, I was overpaid by the National Youth Service Corps. I don't know what happened, I got more than I was supposed to get in my account and I raised the alarm. Years later, I thought maybe it was a racket and the money was mistakenly paid into my account. I remember my fellow corps members and NYSC officials harbouring resentments towards me and I didn't understand it. When I went to return the money, there was so much resentment but I insisted. The bank was the defunct People's Bank of Nigeria and I got a letter stating that I returned the money. I also wrote to the NYSC.
I am content with what I have. My big mouth and integrity are more important to me than whatever anyone has to offer. I always say the money I am looking for is not with the Nigerian government, it is with the Nigerian people. I am a trader; I buy and sell and getting Nigerian people to patronise me is what I need, not the government. Who needs government patronage?
Do you think the government is sincere that it will reform the police and meet other demands of #EndSARS protesters?
The Nigerian government, especially under Buhari and Osinbajo has never been sincere about anything. What will ensure this is for citizens to insist on getting justice because legitimacy comes from the people and they must be ready to be active citizens. Taxpayers' money was spent to set up a panel for the reform of SARS in 2018 and the panel did their job and handed over the report to the President but nothing was done.
The National Broadcasting Commission has imposed fines on some TV stations for allegedly inciting violence by showing videos they said were unverified, what do you think about that?
What I will ask is: when are they going to fine Buhari, the policemen and military men deployed to attack citizens, and the government that deployed thugs to attack citizens for inciting violence? Does NBC understand that we are in a democracy? The stations reported what happened. That was what they were supposed to do. This is 2020 and not 1984. They didn't cook up stories. Anyway, the case is already in court. In the President's broadcast, he said what he did was seen as weakness by the protesters; there were veiled threats in the broadcast.
Recently, the Minister of Works and Housing, Babatunde Fashola, found a camera at the Lekki tollgate; do you think any new evidence can come out of the discovery?
I think Fashola has questions to answer. The camcorder was just sitting there for Fashola to discover after the place had been cleaned up. So Fashola has a whole lot to say and the authorities must be interested in it. But I am ashamed on behalf of Fashola because he is somebody we all thought was a good technocrat but under his principal, he has degenerated before our eyes. It is a shame. It is very sad and unbelievable. I just wonder what happens to people, where is integrity? Beyond that, the Lagos State Government should ensure the release of the footage of what happened at Lekki tollgate – not doctored.
It appears that nobody is talking about Chibok girls and killings by Boko Haram again while people are still suffering in the North-East and some of the girls are still missing. As prominent voice in the #BringBackOurGirls campaign after the adduction, what do you think happened?
Definitely, the BBOG has been talking about Chibok girls; it is almost seven years since they were kidnapped. We are making demands even though the government doesn't want to listen. It sees us as enemies. On Boko Haram, we still talk about them. I saw how some people were saying, 'Why are you talking about #EndSARS when we have bigger problems? There is insecurity in the North.' And I said, 'Who says these things are mutually exclusive?' You can talk about #EndSARS and securing the North in the same breath. I think people who sit down and want to blame every other person other the incompetent, clueless and inept Buhari regime should really be ashamed of themselves.
Some people have blamed you for being one of those who brought down Jonathan's government and helped to bring Buhari in and here you are always criticising Buhari…
Can we say the things each of those governments did that pleased anybody? I don't have any loyalty to anybody; my loyalty is to Nigeria. I don't care who is there. If my husband were the President, I would criticise and be on the streets if necessary. If I were the President, I would criticise myself, let alone any other person. Who cares who they are? Jonathan's administration was a failure and had to be voted out and I'm glad some people feel that I was part of those who ensured that he was voted out. He was voted out because of his oppression. Innocent citizens were killed during Occupy Nigeria protests. There is nothing happening now that we didn't see during Jonathan's administration. It is happening now and I will criticise it. In 2019, Buhari ought to have been voted out but people didn't do that. They began to use sentiments. You don't reward bad behaviour, I will never support such. If he had been voted out, we would not be hearing about him now; we would be holding whoever is the President now accountable. I will criticise any government that doesn't do the right thing. Jonathan and I are from the same region and it didn't stop me from criticising him and Buhari and I practise the same religion, it doesn't stop me from criticising him. I don't care. Nigerian government under Jonathan was a failure and was heinous. Under Buhari, it is a failure and it is heinous.
My concern is for Nigeria to be better. I tell those people that they are yesterday's sycophants who are today's critics and don't realise that today's sycophants were once the way they were; they supported a government doing all the wrong things. The National Assembly was attacked under Jonathan, the media was attacked and newspapers were taken away, there was militarisation during elections, protesters were jailed, and Chibok girls were kidnapped and it took the President 19 days to speak about it. People had to be demanding that he should speak so what is happening now that we didn't see during the time of Jonathan? It is just that most of them are sycophants and because they supported the President then, they cannot talk now. But a lot of people have been coming to apologise to us, saying so this is what it felt like when Jonathan's administration denied that Chibok girls were kidnapped. It is the same way the Buhari administration has been denying that the Lekki massacre happened so they now understand.
Expect crash in food prices, farmers, others tell Nigerians [PUNCH]
Farmers and other stakeholders in the agricultural sector have projected that the high cost of food in most parts of the country will begin to drop in few months time.
Farmers under the aegis of the All Farmers Association of Nigeria, as well as those of the Nigeria Cassava Growers Association of Nigeria, stated that going by the harvesting of various crops, the cost of some food items would soon fall.
They told our correspondent in separate interviews that the current high cost of agro-produce was because the volume of farm commodities stored in warehouses were dwindling, among other reasons.
The National Bureau of Statistics confirmed the high cost of food in its recent Selected Food Prices Watch report.
It stated, for instance, that the price of rice appreciated in September 2020. This cost further increased in the succeeding month, based on findings from marketers and agro-dealers.
"The average price of 1kg of rice (imported high quality sold loose) increased year-on-year by 39.07 per cent and month-on-month by 2.87 per cent to N516.13 in September 2020 from N501.71 in August 2020," the bureau stated.
But farmers and other operators in the industry expressed optimism that the cost of the food would drop in about two months time.
The National President, AFAN, Kabir Ibrahim, told our correspondent that food prices would crash, adding that some locations across the country had started witnessing the drop in food prices.
He said, "We know that prices will come down and in some places, the cost of food is gradually reducing, particularly in interior or remote locations where harvesting has commenced.
"I know that for maize, for instance, the price for a sack as is usually measured used to be between N17,000 and N20,000 but it is now going for about N15,000 in some locations."
Ibrahim added, "The price of rice is still high because farmers are harvesting now and have a lot of paddy. But the price is gradually coming down, especially in places far away from major city centres."
Also speaking on a possible price crash in the cost of food items, the Coordinator, Nigeria Agribusiness Group, a body of industry experts and operators, Emmanuel Ijewere, said agro-produce stored in warehouses were depleting.
He said this had also contributed to the high cost of food items across the country, but was quick to state that in few months the prices of food would drop.
Ijewere said, "At this time of the year, food prices are usually higher because we are approaching the stage of harvesting and the reserves stored in the previous year are dwindling.
"So you have this happening annually. However, in a few months time the prices of a lot of food items will be going down."
On his part, the President, Nigeria Cassava Growers Association, Segun Adewumi, also admitted that food prices were on the high side in most cities and villages.
FG can't hike electricity tariff yet –Labour [PUNCH]
The Federal Government cannot revert to the September 1, 2020 service reflective tariff that led to widespread outcry across the country, the Nigeria Labour Congress has said.
Deputy President, NLC, Joe Ajaero, who doubles as General Secretary, National Union of Electricity Employees, on Friday night, said a new tariff template had been agreed upon by government and labour unions.
Speaking with our correspondent, he said, "I'm not sure of any planned reversal to the old or increased tariff. The template has been touched after the first two weeks of our meeting on the tariff review.
"If you watch the new template for customers in bands A and B, there was a reduction of 10 per cent and 10.5 per cent, respectively. For those in Band C, there is a 31 per cent reduction."
Ajaero added, "Those in bands D and E were not increased at all. Now, that is what we could do within the two weeks and we were given an extension of about two to three months to work on some other issues."
He said the implementation of the reductions would have commenced in the past two weeks but, because of some adjustments, the Nigerian Electricity Regulatory Commission would have to commence it on a later date.
"NERC is not reverting to the tariff that led to the outcry. Rather, it would commence the implementation of these adjustments that were done pending when we are going to make further findings.
"So, they are going to revert to these adjustments that we have made and not the September 1, 2020 tariff hike, which they had approved earlier. The NERC chairman's signature is on what we agreed to during our meeting," Ajaero said.
On why parties at the meeting agreed to an extension of about three months for further findings, the NLC official said it was to settle other concerns in the power sector.
He said, "Why are we talking about two to three months to iron out issues? It is because of the issue of gas pricing. Gas produced in this country is being sold in dollars and they now compute tariff based on the price of gas in dollars.
US special forces storm Nigeria, kill six kidnappers, free abducted American [THE NATION]
THE kidnap of an American citizen in neighbouring Niger Republic on Tuesday went awry on Saturday.
American commandos, with security assistance from Nigeria, stormed the kidnappers' den at an undisclosed locality in the north, killing all but one of the seven-member gang.
The kidnap victim, Philip Walton, 27, was rescued alive in the early morning high-risk raid and returned to Niger immediately.
Moments after the operation, President Donald Trump tweeted out his praise of the rescue mission.
"Big win for our very elite U.S. Special Forces today. Details to follow!" he wrote.
"U.S. forces conducted a hostage rescue operation during the early hours of 31 October in Northern Nigeria to recover an American citizen held hostage by a group of armed men," said Pentagon chief spokesperson Jonathan Hoffman.
"This American citizen is safe and is now in the care of the U.S. Department of State. No U.S. military personnel were injured during the operation.
"We appreciate the support of our international partners in conducting this operation."
Secretary of State Mike Pompeo, speaking separately, said: "Thanks to the extraordinary courage and capabilities of our military, the support of our intelligence professionals, and our diplomatic efforts, the hostage will be reunited with his family. We will never abandon any American taken hostage."
ABC News consultant Mick Mulroy, a former deputy assistant secretary of defence and retired CIA officer, said preparations for Walton's rescue likely started immediately he was abducted.
"These types of operations are some of the most difficult to execute," he said.
"Any mistake could easily lead to the death of the hostage. The men and women of JSOC (Joint Special Operations Command) and the CIA should be proud of what they did here. And all Americans should be proud of them."
An official in Washington said: "We had to get him before any potential trade or sale."
Sources in Washington said the operation involved the governments of the U.S., Niger and Nigeria working together to rescue Walton quickly with the CIA providing the intelligence leading to Walton's whereabouts and Marine Special Operations elements in Abuja and Niamey helping to locate him.
Walton was seized from his farm in Massalata in southern Niger at about 1 am on Tuesday by AK-47 assault rifle wielding kidnappers.
He has lived in Massalata for two years, raising camels.
The six gunmen reportedly rode to Walton's residence on three motorcycles. They found him in his backyard and asked him for money.
He dipped his hand into his pocket and brought out $40 which he offered the men but the sum appeared too small to them.
In a jiffy, they overpowered him and pounced on the rest of the household –his wife, young daughter and brother- all of whom they tied to prevent them from informing the police immediately.
They then left with Walton, moving him to their den in Nigeria, just across the border with Niger Republic.
But about four hours after Walton's abduction, his family members managed to break free from the ropes that had been used to tie them and they alerted the authorities in Niamey.
Meanwhile, the kidnappers called the victim's father who lives a half mile away to demand a ransom, according to the London Mail.
The U.S. government was also alerted and quickly set machinery in motion to rescue him immediately before the kidnapping could become a prolonged hostage-taking or the victim could be taken by or sold to a group of terrorists aligned with either al Qaeda or ISIS.
The elite SEAL Team Six executed the "precision" hostage rescue mission, according to officials with direct knowledge about the operation.
"They were all dead before they knew what happened," a counterterrorism source said of the abductors.
Walton's kidnap occurred two months after IS-linked militants killed six French aid workers and their Niger guide while they were visiting a wildlife park east of the capital.
At least six foreign hostages are being held by Islamist insurgents in Mali, Burkina Faso and Niger.
Two of these were taken in Niger, including U.S. aid worker Jeffery Woodke, who has been missing since October 2016, and Joerg Lange, a German aid worker who was taken in April 2018 from a town near the Malian border.
The president of Niger, Mahamadou Issoufou, said in September last year that he had information that Woodke was alive and in good health.
Three Europeans, including 75-year-old French NGO worker Sophie Petronin, were released by their captors in Mali earlier this month under a prisoner swap arranged by the Malian government.
Terror groups have collected millions of dollars in ransom payments as a result of kidnappings in recent years. The U.S. government has frequently criticised other countries for paying.
How Nigerian troops aided the rescue operation
A military source told The Nation last night that the Multi National Joint Task Force (MNJTF) was instrumental to the rescue of the American.
How SARS tortured me for 22 days till I lost my pregnancy –Teacher [THE NATION]
THE Lagos State Judicial Panel of Enquiry and Restitution for Victims of SARS related abuses and other matters on Saturday heard the chilling details of how the now dissolved police unit allegedly tortured a pregnant teacher and her husband for 22 days, till she lost her baby.
Ogechukwu Obiechina and his wife Ndubuisi told the panel that the incident occurred in June 2017 after the operatives falsely labeled her a thief and kidnapper.
Mrs Obiechina , who spoke for the couple, said she was two months pregnant at the time, but that during beatings, the men threatened to "force the baby out of me".
She claimed that following further trauma from the torture SARS operatives meted out to her and her husband during his second arrest in October 2017, she lost another pregnancy.
She said men of the Federal Special Anti-Robbery Squad (SARS) also stole her husband's N50,000 and compelled them to cough up N400,000 as bail before they were freed.
She told the panel that the couple in 2017 sued the Police at the Federal High Court in Lagos and won.
Justice Mohammed Idris ordered the Police to pay them N2 million as compensation.
They also won at the Court of Appeal in Lagos in 2020 but the Police refused to comply with the judgment.
Mrs Obiechina identified some of her alleged torturers as "Phillip Rilwan, Christian and Haruna Idowu", all policemen.
Panel chair, Judge emeritus Doris Okuwobi, adjourned sitting till November 10 to give the mentioned operatives an opportunity to appear and respond to the allegations.
The Obiechinas' testimony was the first of four petitions for the third day of sitting since the Lagos State Government set up the nine-member panel on October 15, following weeks of near nationwide #EndSARS protests.
The other petitioners are: Olusegun Openiyi; Francis Idum (deceased) and Olajide Fowotade. The fourth petition didn't go on.
Mrs Obiechina, a private school teacher, said on June 1, she received a text message from an unknown number that she had a parcel from DHL. A caller using different numbers asked for her home or office address and she gave him her school address upon her husband's advice.
It was the next day, June 2, 2017, that her ordeal began.
She said the men arrived at her school in a black Sports Utility Vehicle (SUV).
Her words: "I saw a black jeep with huge men inside it. One of them was in a DHL uniform…
"Immediately, they approached me, they started beating me. They said I should enter inside. They said I was a thief, an armed robber. The one in the DHL uniform removed it. My HM (Headmistress) was peeping at us. I said let me go and tell her. They said no."
The petitioner said she had a five-year-old son at the school, but they didn't care.
"I said my kid is there, they said no, that I should follow them, that my kid would die there. My HM came to the gate; they pointed a gun at me. She asked what was going on. They said 'This woman is a thief, a kidnapper. She must follow us and go. They said they were Police, SARS.
"They pushed me inside the car and moved. The men were slapping, beating me. I was two months pregnant. I started vomiting. That's when they found out I was pregnant. But they kept torturing me. I told them I did not know the suspect.
"They took me to their office at Ikeja. They took me to a shrine. They hanged me, beat me. They said they would force my baby out of me. They said I must produce the person or die there," Mrs Obiechina said.
The witness testified further that her husband had been searching for her at different police stations in Lagos. When he eventually found her, he was also arrested and tortured.
She continued: "Immediately they saw him, they started beating him. They put a tyre on his head, and said they would burn him alive. They started interrogating him, beating him with gun butt, hitting him on the head with a stone.
"During the beating, I urinated on my clothes; they said my pregnancy was not my husband's, that I should bring the man who impregnated me."
INEC: APC, PDP senators move to stop Buhari's aide's nomination [THE NATION]
Senators are not about to back pedal in their opposition to the nomination of the President's Special Assistant on Social Media, Lauretta Onochie, as a National Commissioner of the Independent National Electoral Commission (INEC), The Nation gathered last night.
Senators from the All Progressives Congress (APC) and the Peoples Democratic Party (PDP) are understood to have joined forces to stop the nomination of Onochie.
Some senators have also received video clips of interviews granted by Onochie from some interest groups to back up their opposition to her nomination.
Lobbyists are having a tough time trying to convince the lawmakers to accept Onochie's nomination for the South-South slot.
In deference to the President, senators have made an informal representation to some principal officers to prevail on President Muhammadu Buhari to present a new candidate from the South-South.
But some governors have stepped in to save Onochie who they claimed has been doing only media job.
Buhari had on October 13 nominated Onochie and three others as INEC commissioners – Prof. Muhammad Sani Kallah (National, from Katsina State); Prof. Kunle Cornelius Ajayi (Ekiti) and Saidu Babura Ahmad (Resident Electoral Commissioner, REC (Jigawa).
The letter said: "Pursuant to Paragraph 14 of Part I (F) of the Third Schedule to the Constitution of the Federal Republic of Nigeria 1999, as amended, I hereby forward for confirmation by the Senate, the appointment of the following four Commissioners for the Independent National Electoral Commission (INEC)."
The President's letter however generated tension in the Senate with some PDP senators leading the opposition to Onochie.
According to investigation, the tension generated by the nomination of Onochie informed the "delay in referral or committal to the appropriate committee in the next legislative day after Buhari's letter was read."
It was learnt that some APC and PDP Senators met in Abuja on why Onochie's nomination would not fly.
A ranking Senator in APC confirmed that some of his colleagues had been meeting informally on Onochie's appointment.
#EndSARS: Destruction was wickedness, says Sultan [THE NATION]
THE Sultan of Sokoto, Alhaji Muhammad Sa'ad Abubakar, on Saturday  decried the massive destruction which resulted from the #ENDSARS protests across the nation, labeling it wickedness by disgruntled elements.
Speaking at the 50th   anniversary of the North's Centre for Historical Documentation and Research popularly known as Arewa House, in Kaduna, the Sultan said the destructions did Nigeria no good at all.
Abubakar who was the Royal Father of the occasion said: What happened in the last couple of weeks was wickedness by disgruntled hoodlums."
But he hailed Northern youths for not joining in the violence.
He, therefore, asked Northern governors to make the youths "part of decision making."
He said: "give them projects that will make them feel part of the government."
He was also not happy at the level of development in the North.
His words: "Is the North of today the North we desire? The North where our children are roaming the streets begging for food? Is it the North where our girls are going to school?
"The Sardauna of Sokoto wanted to develop the North by building so many projects that are still standing tall. That is left for our political leaders to build on the foundation. Let's walk together as Arewa, let's walk together as North, let's develop Arewa so that we will develop the North."
Also speaking, former  Vice President Namadi Sambo asked Nigerian youths  to be law abiding even when they are making demands of government.
"The youth of this great country showed excessive aggression", Sambo said of their handling of the #ENDSARS protests.
He added: "Your voice is loud and bold but you must be calm and law abiding while the Federal Government addresses  your demands with the urgency they deserve.
"Fifty years is a long journey which calls for sober reflection. Arewa House is a center of national harmony and cohesion. Arewa House remains one of the centers in Nigeria that bring people together from global diversity."
30 killed, scores injured as trailer rams into Ondo market [SUN]
No fewer than 30 persons yesterday lost their lives in Akungba-Akoko in Akoko South West Local Government Area of Ondo State when a truck rammed into the market in the town.
Sunday Sun gathered that many residents of the town, including students were victims of the accident.
The driver of the truck, according to an eye witness, lost control of the vehicle due to break failure and rammed into the market.
Apart from those who lost their lives, it was reliably gathered that some people sustained serious injuries as a result of the accident.
Many of the victims who sustained injuries are already receiving medical treatment at the state Specialist hospital, Akungba-Akoko, while the deceased have been deposited at the mogue of the hospital.
The truck, sources said, was coming from the nothern part of the country, while its destination was unknown as at press time.
A resident of the town said, "the trailer was descending from Okerigbo hill near Adekunle Ajasin University when it lost control as a result of faulty brake."
The state Sector Commander of the Federal Roads Safety Corps (FRSC) could not be reached for comments as at press time.
US military rescues citizen held hostage in Nigeria [SUN]
The United States of America, yesterday, disclosed that it has successfully secured the release of its national held hostage in Nigeria.
The United States government, in separate statements issued by the United States Secretary of State, Michael Pompeo, and the Chief Pentagon Spokesman, Jonathan Hoffman, however, did not disclose the identity of the national that was held hostage in northern Nigeria.
But Fox News Channel, an American cable television, reported that Philip Walton, 27, who had been taken hostage in northern Nigeria, was rescued by  the United States Navy Sea, Air, and Land (SEAL) Teams otherwise known as Navy SEAL.
Pompeo, in a statement issued in Washington D.C, United States, said the United States is committed to the safe return of all United States citizens taken captive.
"We delivered on that commitment late last night in Nigeria, where some of our bravest and most skilled warriors rescued a U.S. citizen after a group of armed men took him hostage across the border in Niger," Pompeo said.
Pompeo further expressed gratitude to the United States military forces for their extraordinary courage and capabilities.
"Thanks to the extraordinary courage and capabilities of our military, the support of our intelligence professionals, and our diplomatic efforts, the hostage will be reunited with his family.
"We will never abandon any American taken hostage," Pompeo said.
On his part, Hoffman said: "U.S. forces conducted a hostage rescue operation during the early hours of 31 October in Northern Nigeria to recover an American citizen held hostage by a group of armed men. This American citizen is safe and is now in the care of the U.S. Department of State. No U.S military personnel were injured during the operation."
Hoffman, an Assistant to the Secretary of Defense for Public Affairs, also said: "We appreciate the support of our international partners in conducting this operation.
"The United States will continue to protect our people and our interests anywhere in the world."
Reacting to the development, the United States Diplomatic Mission to Nigeria, in a message on its Facebook page, expressed gratitude to the Federal Government for the rescue of its citizen.
"We thank the Government of Nigeria for its partnership and support of this mission," the United States Diplomatic Mission to Nigeria said.