Nigerian newspapers headlines Sunday morning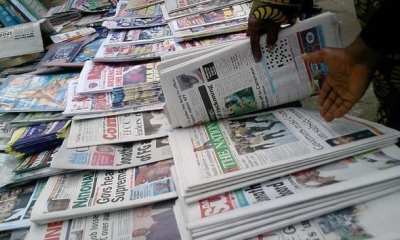 Gana left behind over 200 well-trained gang members, says deputy [THE NATION]
ABOUT 200 trained members of the Gana-led terror group remain in the forests of Benue North East and parts of neighbouring Taraba State, according to a leader of the gang.
Aondehemba, as he identified himself to The Nation during an encounter in Keffi, Nasarawa State yesterday evening, said Gana had instructed his second in command to take over in the event that he (Gana) got killed during his trip from Katsina Ala to Makurdi.
Aondehemba a.k.a. "Major' said  Gana, whose real name is Terwase Akwaza, seemed to have a premonition of his death before venturing out of the forest on Tuesday to accept the offer of amnesty from the state government.
'Major' spoke on his way to Abuja to commiserate with one of the widows of Gana.
Governor Samuel Ortom of Benue State said yesterday that he would not take issues with the military on the circumstance of Gana's death.
Speaking in Tiv, 'Major' said: "We warmed him not to come out. We told him that the said amnesty was a ploy to get him.
"He agreed with us but said he had made up his mind to surrender and that he was tired of staying in the bush.
"He told us that he was coming out from the bush to honour the  Bishop of Gboko William Aveyam and Senator Gabriel Suswam, both of whom he said had been mounting pressure on him in the last three months to come out and embrace peace, and that he had made up his mind to embrace peace."
Aondehemba said Gana had a structured 'empire' in place in the forest with over 200 well trained armed men spread across Benue North East and parts of Taraba State.
"It is a battalion. We are many and have a very strong network. Gana was a leader that cared so much about us.
"On that very day, he assembled us in the morning in the bush and addressed us. He directed us on what to do if he did not return alive.
"He told us that if his coming out was a setup, the battle should continue, but if it was with genuine intention, he would want us to lay down our arms."
Aondehemba recalled that Bishop Aveyam was always calling Gana on the phone, preaching the gospel to him to change his ways and embrace peace.
He added: "I can tell you that Gana accepted Christ before his death. He had planned to be baptized by the Bishop after the amnesty. He had even discussed wedding one of his wives in the church. He was actually tired of what he was doing.
"I was among the five gang members that disappeared in the convoy when the army stopped us in Gboko. Our vehicle was behind the official car of the local government chairman that was conveying Gana to Makurdi.
"Gana could not disappear because he had already handed over his power to the second commander before embarking on that ill-fated journey to Makurdi.
"His intention was to come back from Makurdi and make sure that peace returned permanently in Sankera (Logo, Ukum, Katsina Ala LGAs), and Suswam had assured him of full support.
"He had told us that one of the things he intended to do in Makurdi was to plead with Governor Ortom to forgive him and reassure him of peace in Benue."
He claimed that Gana had super natural powers derived from burying his 12-year-old daughter alive 11 years ago in his Gbitse village.
"That was why he was very powerful. And those powers are still intact, because he gave them to someone very close to him.
"The military got Gana easily because he came out of the forest.
"Gana was in his village in Gbitse when he was declared wanted some years back, and each time the military went there to arrest him they were unable to identify him.
"Now Gana is no more but his spirit is still very much alive. He gave us a directive on what to do in case he died.
"At the moment, we are mourning him."
'I'll not take issues with military on Gana's death' – Ortom [THE NATION]
Governor Samuel Ortom  of Benue State, who was waiting in Makurdi on Tuesday for what was planned to be a historic meeting with Gana only to be informed of his death, said yesterday that he would not take issues with the military on the circumstances of the terrorist's death.
The military had claimed that Gana was shot dead during an exchange of gun fire with soldiers while government officials in the same convoy with the deceased said he was dragged out of the car that was taking him to Makurdi, bundled into a security vehicle and later shot.
Speaking to reporters after an expanded meeting of the state Security Council, Ortom said his administration had decided to move ahead with the amnesty programme as Gana is dead and will not come back to life.
PDP govs shun Ondo campaign flag-off as cracks deepen [THE NATION]
The divisions in the Peoples Democratic Party (PDP) ahead of the 2023 elections appear to be deepening with only two of the state governors of the party showing up on Saturday in Akure for the flag-off of the party's campaign for next month's governorship polls in Ondo State.
Governors Seyi Makinde of Oyo State and Aminu Tambuwal of Sokoto State were the only state chief executives in attendance to support the party's flag bearer in the election, Mr. Eyitayo Jegede, in what party sources said underlined the battle for the soul of the PDP.
There are fears within the party that the development is a major threat to the chances of the PDP in the polls and even beyond.
Although the party's national chairman, Prince Uche Secondus, was at the rally, prominent party leaders from the South West, such as former Ekiti State governor Ayo Fayose, PDP candidate in the last governorship election in Osun State Mr. Ademola Adeleke and party chieftain from Ogun State Mr. Ladi Adebutu were absent.
They are currently locked in a rift with Governor Makinde who is the chairman of the PDP campaign committee.
The disagreement centres on the handling of the Ondo State governorship campaign of the party.
Secondus and many chieftains of the party in Ondo State are also said to be unhappy with the situation.
The Nation learnt that following incessant complaints by some major stakeholders within and outside the state that they were not being carried along by the Oyo State governor in respect of the Ondo election, Secondus expressed concern about the state of things and asked Makinde to put more effort into uniting the Southwest with a view to giving PDP victory in the state.
Sources said little or nothing has been done to bring aggrieved stakeholders of the party to work with Makinde in the campaign efforts.
Fayose had warned that Jegede could lose the Ondo State election if the party remained divided in the Southwest and Ondo State ahead of the poll.
He accused the Oyo governor of foisting party executives, committee members and instructions on leaders and members of the PDP who are working tirelessly towards the victory of the party and Jegede.
Southwest national vice chairman of the party, Eddy Olafeso; Ogun State chairman, Sikirulai Ogundele; Lagos State chairman, Deji Doherty; Ekiti State Chairman, Bisi Kolawole; and Osun State  chairman Sunday Akanfe, are all in support of Fayose's objection to Makinde's style.
Adebutu, Adeleke, Senator Yinka Olujimi and other prominent leaders of the party in the Southwest had recently called on the NWC of the party to caution Makinde in the interest of the PDP.
Fayose and his supporters are also said to be opposed to Makinde's alleged positioning of former deputy national chairman of the party, Bode George, as the de-facto leader of the Ondo campaign structure.
A source said: "We have told the national chairman and other party leaders that with Makinde's undemocratic approach to leadership and his collaboration with Bode George, there is no way he can get other stakeholders in the zone to work with him.
"Our worry is that he is threatening the chances of the PDP in Ondo State.
"Makinde's political style and undue meddlesomeness in the Southwest and Ondo State in particular may cause the party to lose the election.
"He is driving away the people who can deliver Ondo for the PDP and working with retired grandpas. That is not how to win elections."
The Nation also gathered that some governors of the party, as well as supporters of a former presidential candidate of the PDP, are also not inclined to working with Makinde in the campaign committee.
A source accused him of singlehandedly selecting members of the committees and deciding who got what.
"You can imagine him making Fayose an ordinary member of a sub-committee," one source said.
Continuing, the source said: "Others like Adebutu and the party state chairmen in the zone were not consulted on the selection of committee members.
"In Ogun and Ekiti, he (Makinde) decided to support factions of the party not recognised by the NWC. These and many more actions of Makinde's are threatening Jegede's victory.
"Even outside the Southwest, some PDP governors and leaders are not comfortable with Makinde's style.
"They have openly accused him of acting the script of a clique within the party that is determined to snatch its control.
"That was why only two governors attended the campaign flag-off in Ondo State.
"Even the national chairman is no longer happy with the situation of things. But he is cautiously approaching the whole issue so as not to further scuttle PDP's chances in the election.
"Unless something is done urgently to rescue the campaign structure from Makinde and George, the situation will remain the same."
Buratai: Military will be ruthless with bandits, kidnappers [THE NATION]
THE Chief of Army Staff, Lt. Gen. Yusuf Tukur Buratai, on Saturday vowed at the Army super Camp 4 in Faskari, Katsina, that the troops will ruthlessly deal with the bandits and other criminal elements that are presently terrorizing Katsina and the North-west region of the country.
He said: "So far with the brief I received this afternoon (Saturday), I am highly impressed with the level of commitment, dedication and loyalty of the troops.
"Be assured that we will be ruthless to all those criminals who are bent on disturbing the peace and security of our country. We call on the people of the states to support the troops collectively to achieve the desired objectives of having a secured Nigeria.
"We will not tolerate this attitude or conduct of molesting, kidnapping, killing and raping of innocent girls and women. We are determined to work hard with civil administrations to have a secured and peaceful Nigeria."
Buratai, who made the declaration while interacting with the media, further commended the troops for the successes recorded so far in the region in quelling banditry and urged them not to relent until the criminals are routed.
While noting that there were challenges affecting the smooth operation of the war against bandits, he however described the challenges as not insurmountable, as the troops have been able to improvise solutions to them.
He said, "On the assessment generally, it is quite encouraging and this is what is required. I also want to thank the people of the Northwest for their support, especially Zamfara and Katsina states where our phase are located for the sake of this operation Sahel Sanity ''
FG shifts talks with NLC, TUC, others to Tuesday [THE NATION]
THE peace talks between the Federal Government, organised labour and the civil rights groups on the recent hike in fuel price and electricity tariffs will now take place on Tuesday in Abuja.
The meeting was originally scheduled for yesterday but had to be postponed to enable as many interest groups as possible to take part in it.
Deputy Director, Press and Public Relations, Federal Ministry of Labour and Employment, Charles Akpan confirmed the development in a text message yesterday.
He said the meeting will come up at the Banquet Hall of the Presidential Villa, Abuja.
Labour and Employment Minister Chris Ngige first informed reporters of the talks on Friday as he emerged from a meeting with President Muhammadu Buhari.
Ngige said the meeting, called on behalf of Buhari, would provide the government team an opportunity to open its books to organised labour and explain why it took recent decisions.
President of the NLC, Ayuba Wabba, told The Nation moments after the minister's announcement that the notice of the meeting went out late and labour leaders from different parts of the country would not be able to reach Abuja under 24 hours for the talks.
He said labour had proposed that the meeting be rescheduled.
Akpan, confirming the meeting's postponement yesterday, said the leadership of organised labour and other civil society organisations were not likely to be available in one fold.
He said: "The meeting has been rescheduled to Tuesday, 15th Sept at 10 am. Venue is Banquet Hall of Presidential Villa.
"This is to accommodate all participants."
In a separate interview with the News Agency of Nigeria (NAN) yesterday, Wabba said organised labour would soon come out with a position on the recent increases in prices of various essential commodities, including fuel and electricity.
He said organised labour would not protest until the Central Working Committee (CWC) had met and agreed on appropriate action.
"Labour takes one battle at a time; it does not make announcement without backing its action," the labour leader said.
He noted that NLC had remained consistent on neo-liberal policies, and would take appropriate action in respect of the increases in order to achieve desired result.
He also said that it was high time Nigeria started refining products locally to solve importation challenges.
On the suspended planned protest against the Rivers State Government, Wabba said that there was the need to mend fences between the state and labour to ensure harmonious relationship.
According to him, the will of the people should not always be taken for granted "as injury to one is injury to all".
The NLC president called on other state governments to take appropriate steps toward addressing labour issues so as to avoid the wrath of the organised labour.
Edo poll: INEC insures over 20,000 ad hoc staff against death, others [PUNCH]
Ahead of the September 19 governorship election in Edo State, the Independent National Electoral Commission says it has insured all its staff and the 20,974 ad hoc staff that will be deployed for the exercise. It said a comprehensive insurance had been put in place for them and those who would serve in the October 10 governorship election in Ondo State.
INEC's National Commissioner and Chairman of its Information and Voter Education Committee, Festus Okoye, told Sunday PUNCH in an interview on Saturday that the election officers would be insured against deaths and other election hazards.
There have been apprehensions from within and outside the state that the election, which holds on Saturday, may be marred by violence. This had prompted INEC, security agencies, prominent individuals and organisations to sue for peace.
No fewer than 14 political parties would participate in the election, but the two major parties in the state; All Progressives Congress and Peoples Democratic Party, continue to accuse each other of planning to foment trouble during the exercise.
The Oba of Benin, Oba Ewuare II, had on September 2 chastised the candidate of the PDP, Governor Godwin Obaseki; that of the APC, Pastor Osagie Ize-Iyamu, and some other party chieftains over the pockets of political violence and tensed political atmosphere in the state.
In a meeting with the candidates, their running mates and other stakeholders at his palace, the monarch described some of their utterances and activities during the electioneering as immature.
Many previous elections across the country have been marred by violence, during which some election officers were killed.
But in a bid to assure its personnel of its commitment to their safety in the forthcoming election, Okoye said the staff members of the commission were already insured but that the ad hoc staff would be insured.
Okoye said, "All the ad hoc staff engaged by the commission for the purposes of the Edo and Ondo governorship elections will be covered by insurance and it's a comprehensive insurance covering deaths, accidents and other election hazards. It's a group insurance that covers every individual given a contract by the commission as ad hoc staff. The staff of the commission are already covered and there is no need to cover them a second time."
The National Commissioner also said most of the ad hoc staff had been trained, except for Collation Officers who are usually trained three to four days to the election.
He said corps members would be deployed as Presiding Officers and students of federal tertiary institutions as Assistant Presiding Officers. While promising that each of them would be given a contract and their allowances paid promptly, he added, "We plead with them to always supply their correct details and account numbers to prevent late payment from the bank."
He added, "The commission will deploy a total of 20,974 election officials in Edo State. We have 18 Local Government Areas in Edo State, so there will be 18 Local Government Collation Officers; 192 Registration Area Collation Officers, 263 Supervisory Presiding Officers and 2,627 Presiding Officers.
"The commission will also engage a total of 13,557 Assistant Presiding Officers and 3,259 Presiding Officers (Voting Points) and we will also engage not less than 841 Reserves. There will be one Returning Officer for the election. There are 2,627 polling units and a registered voter population of 2,210,534. Our training programme has been robust and we are confident that our trainers have done a good job.
INEC had said out of the 2.2 million registered voters in the state, only 1.72 million collected their permanent voter cards, while 484,000 persons who did not collect theirs would not vote.
SANs divided as Malami weakens NBA powers in new gazette [PUNCH]
A new gazette by the Attorney General of the Federation and Minister of Justice, Abubakar Malami (SAN), which supposedly weakens the powers of the Nigerian Bar Association has caused division among some Senior Advocates of Nigeria and lawyers in the country.
Malami had amended the Rules of Professional Conduct for Legal Practitioners 2007, removing the requirement for the NBA stamp and seal on court processes.
Before now, membership of the NBA was compulsory for all lawyers and the stamps and seals were sold at N4,000 for 72 pieces and were given upon payment of NBA dues.
Without the stamp, a lawyer could not submit any document or letter to the court and the sale of the stamp and seal was one of the major sources of NBA's revenue.
However, with the amendment of the process by Malami, the use of the stamps is no longer necessary. This also implies that persons who are not members of the NBA, including non-lawyers, are allowed to submit court processes.
The development occurred less than a week after a splinter group known as the New NBA, wrote a petition to Malami asking to be recognised by the Federal Government.
The gazette – marked S.I N0.15 of 2020 issued by AGF and dated September 3, 2020, which was obtained by Sunday PUNCH – reads in part, "In exercise of the powers conferred on me by section 12(4) of the Legal Practitioners Act Cap L11, LFN 2004 and of all other powers enabling me in that behalf, I, Abubakar Malami, SAN, Attorney General of the Federation and Minister of Justice and President, General Council of the Bar, make the following rules:
"The Rules of Professional Conduct for Legal Practitioners, 2007 is amended by deleting the following rules, namely: 9(2), 10, 11, 12 and 13.
"These rules may be cited as the Rules of Professional Conduct for Legal Practitioners (Amendment) Rules, 2020."
The NBA had become factionalised last month following the decision of the association to withdraw its invitation to Kaduna State Governor, Mallam Nasir El-Rufai, who had been billed to speak at its Annual General Conference.
Thousands of persons, mostly lawyers, had called on the NBA to rescind its invitation to El-Rufai, who was accused of several cases of human rights abuse and being unable to address the killings in southern Kaduna.
Following the decision of the NBA to rescind its invitation to the governor, several northern branches of the NBA boycotted the conference and interpreted the act as one based on religious and tribal considerations.
A group of mostly northern lawyers led by Nuhu Ibrahim and Abdulbasit Suleiman subsequently set up the New NBA, otherwise known as the NNBA, and wrote a letter to the AGF asking the nation's chief law officer to recognise the splinter group as a new association.
However, while some senior advocates and lawyers described Malami's action as illegal, others disagreed.
The NBA spokesperson, Dr Rapulu Nduka, told one of our correspondents that the development was surprising, adding that the association was not carried along.
"We were not carried along and we will definitely ensure that it is reversed. We just woke up to the news of the amendment like every other person. We are consulting with stakeholders and we will make a decision on the next step," he said.
A human rights lawyer, Ebun-Olu Adegboruwa (SAN), said Malami ought to have consulted widely before making the move, which he said would greatly affect the revenues of the NBA. He, however, said it was unlikely that the AGF had taken sides with the splinter NBA group.
Adegboruwa also said once the seal and stamp were no longer used, the development could lead to an increase in the number of fake lawyers in the country.
He said, "The issue of stamp and seal has helped in removing fake lawyers from our midst and I think it will serve as a setback if you go back to that regime when you cannot identify a lawyer through his processes. As we speak, other professionals like engineers, surveyors are embracing stamp and seal as a way of identifying their members.
"The stamp, which is a means of generating funds, helps in making the NBA self-sufficient so that it will not be running to politicians and non-lawyers to raise funds. Even though I agree that the AGF as the President of the General Council of the Bar has powers to make regulations, but he ought to consult with those who are affected, namely the NBA, the Body of Senior Advocates and even judges because we are all in the same profession."
Also, a former Chairman of the National Human Rights Commission, Prof Chidi Odinkalu, described the AGF's action as illegal.
In a series of tweets, Odinkalu said he was not surprised that Malami, "who has a penchant for disobeying court orders," would not take such illegal action.
He said, "The Attorney General and Minister of Justice, Abubakar Malami, claims to have amended Rules of Professional Conduct in the legal profession under powers conferred by S.12(4l) of Legal Practitioners Act. We have a HAGF who can't do basic due diligence.
"The only way to go is to totally disregard and ignore this alleged amendment by Malami. It does not exist and did not happen. It seems clear that Malami decided to go rogue on this – as on other things as he has on the disobedience of court orders – because he knows that he can't get his proposal through the bar council. Few tragedies are as awful as an attorney general with no regard for the law."
Daddy Freeze apologises to Oyedepo [PUNCH]
Broadcaster, Ifedayo Olarinde, aka Daddy Freeze, has apologised to the founder of Living Faith Church (aka Winners Chapel), Bishop David Oyedepo, for calling him a "bald-headed fowl."
Daddy Freeze, who is the Convener of the Free the Sheeple Movement and Leader of the Free Nation in Christ, said this in a video on Saturday.
The broadcaster had come under fire from several reputable clerics, including the Senior Pastor, Dunamis International Gospel Centre, Dr Paul Enenche; and the founder of Salvation Ministries, Pastor David Ibiyeomie, for verbally attacking Oyedepo.
Daddy Freeze, while apologising to Oyedepo, said he did the video two years ago, adding that it only went viral recently.
The broadcaster said, "My attention has been drawn to a video I released circa two years, seven months ago while addressing some pertinent issues that arose back then. I apologise for the delivery of my message and for any insult to Bishop David Oyedepo in that video as I didn't in any way intend to dishonour, disrespect or disregard the person of the bishop.
"The perceived intention to the contrary is regretted. My methods of addressing doctrinal issues have long since devolved to a more scriptural and less confrontational approach. I was and still am very passionate in my quest to address what I believe are unresolved doctrinal issues, however, from a more amiable perspective."
Daddy Freeze said he firmly believed that for the Christian faith to thrive, believers must collectively be open to adopting theological frames of reference.
He said this could be achieved in love only.
The broadcaster has been known to propagate controversial Christian doctrines which include the non-payment of tithes.
He has been feuding with several popular and influential clerics and described those who demand tithe as thieves.
How we fled poverty but ended up with rapist employers — Nigerian women working in the Middle East [PUNCH]
Eight years after graduating from one of the state-owned universities in the South-West without a job after several unsuccessful applications and interviews, Helen Omoniyi (not real name) decided to seek greener pastures in Dubai, the United Arab Emirates.
She left Lagos on one Monday in June 2016 on a journey that she hoped would turn her life around. As she left the shores of a country she had spent 28 years of her life, her mind pondered on many things all through the flight to Dubai, a rich city in the UAE known for luxury shopping, and ultramodern architecture, among others.
"I couldn't bear the shame of being jobless anymore, so I thought if leaving Nigeria would be my last resort, so be it," Omoniyi told our correspondent via a WhatsApp call.
On the day she left Nigeria, she had mixed feelings, though, saying she was excited as well as doubtful, not knowing what the future held for her in Dubai.
She said, "I was happy to look for opportunities somewhere else as I couldn't get any job in Nigeria despite several efforts. In fact, I couldn't count the number of applications I wrote in Nigeria. Some companies called me for interviews but I didn't emerge successfully. So a friend who had been working in Dubai urged me to leave Nigeria, that there were jobs in Dubai.
"After passing through the necessary procedure to travel to Dubai, I finally left Nigeria in June 2016. That was about eight years after I graduated from university with a degree in Biochemistry. But as I left Nigeria, I didn't know what life held for me in Dubai. I had many thoughts during my flight. I thought, 'What if things didn't work out as planned?'"
But it was too late to decide to return to Nigeria. She had to face the consequences of whatever decision she took. She finally arrived in Dubai to settle for a new life.
Omoniyi said she eventually got a job as a waiter at a Chinese-run restaurant in the city, earning about Dh1, 000 (N105, 000) per month, an amount she complained was barely enough to cater to her feeding, accommodation, among other expenses.
However, Omoniyi said she had no option but to cope with whatever she was earning and hoping for more as time went by.
But as months went by, she said her boss always complimented her beauty, describing her as the most beautiful black lady he had ever seen.
She said, "Initially, I used to smile at him for the compliments but I later got suspicious and infuriated when he didn't want to stop complimenting me. As a lady, I knew that trick. My suspicion was confirmed sometime in November 2017 when on one occasion I went to his office to seek permission from him to sit an exam. He smiled and granted me permission but as I was leaving his office, he slapped my buttocks. But I warned him never to try it again. Then he flared up.
"He started insulting me. Before I knew what was happening, he grabbed my waist and held my throat. He asked how I dared to 'threaten' him in his own office. Then he started fondling my breasts as he pressed me against the wall. As I kept on struggling with him, he lifted my skirt and underwear and raped me."
Asked if she reported the case to the Dubai police, Omoniyi said no, saying women's rights records were poor in the Gulf country. She stated that from her findings, rather than arrest rapists, most women who reported rape were the ones often arrested for either premarital sex or extramarital affairs.
Omoniyi's observation was perhaps correct. In a 2016 report by the Independent UK, a British woman, 25, who reported being gang-raped by two men in Dubai was charged with sex outside marriage while the alleged rapists were allowed to go scot-free.
Following her arrest for extramarital sex, the victim's passport was confiscated, and prohibited from leaving the country to face legal proceedings. The Independent UK noted that the prescribed punishments for extramarital sex in the UAE include imprisonment, deportation, floggings, and stoning to death.
A human rights group, Detained in Dubai, noted that cases like that of the British woman were not uncommon in the Gulf.
"Dubai struggles to maintain its promoted reputation of being tolerant, modern, progressive, and focussed on happiness and positivity, while it regularly victimises women for reporting crime. All of the glamour, glitz, and fireworks displays in the world press cannot disguise the negative image that incidents like this one generate," DD told Independent UK.
Bobisky, kidnap kingpin, dies hours after arrest in PH [SUN]
Rivers State Police Command has arrested a most wanted kidnapper, armed robber and murderer, Honest Digbara, popularly known as Bobisky. He, however, died hours after his arrest.
Digbara was arrested in the wee hours of yesterday (Saturday) by the operatives of the police command led by the Divisional Police Officer (DPO) of Bori Police Divisional Headquarters in Khana Local Government Area of the state, Bako Angbashim, a Superintendent of Police (SP), with support from a local vigilance group in Tai Local Government Area (TaiOSPAC).
It will be recalled that the state governor, Nyesom Wike, had placed a N30 million booty for anyone who could give credible information to the arrest of Bobisky, a native of Nwibara community in Gokana LGA.
Sunday Sun gathered that the suspect had been terrorising the Ogoni axis and its environs. His gang is responsible for violent crimes like kidnapping, armed robbery, cultism and murder in Ogoni land.
Kaduna killing: Don't retaliate, Miyetti Allah begs members [SUN]
Miyetti Allah Cattle Breeders Association of Nigeria (MACBAN) has urged its members not to take law into their hands by retaliating the recent attacks in some parts of Southern Kaduna in which three of its members were killed.
Its Director, Media and Publicity in Kaduna State, Bayero Zango, in a statement, yesterday, cautioned those he referred to as "criminal elements to desist" from their actions.
Zango said: "We condemn these unprovoked attacks by those Atyap criminal elements who are hell bent on sabotaging the peace processes in the area.
"All these attacks happened after the peace treaty was reached and signed by all the warring tribes of Hausa, Fulani and Atyap (Kataf) in a one-day summit on peace and reconciliation organised by the paramount traditional ruler of the chiefdom, Sir Dominic Gambo Yahaya on 22nd of August 2020.
"The Hausa and Fulani communities remained calm and law abiding but to our greatest surprise, some of those suspected Atyap (Kataf) criminals refused to respect the agreement that was reached and continued with their unprovoked attacks on the unsuspecting and innocent Fulani herdsmen.
"We are appealing to the perpetrators of these attacks to, in the interest peace, refrain from these breaches of the peace accord that was reached by respect their leaders and parents who are working day and night to restore peace, law and order in the area.
"We are calling on the security agencies and Kaduna State government to ensure that the perpetrators of these attacks are brought to book accordingly.
"We are appealing to our Fulani pastoralists to continue living in peace and be reporting any suspicious movement they may see to security agencies, as well as give maximum cooperation in order to restore lasting peace to the area.