Nigerian Newspapers Headlines Saturday Morning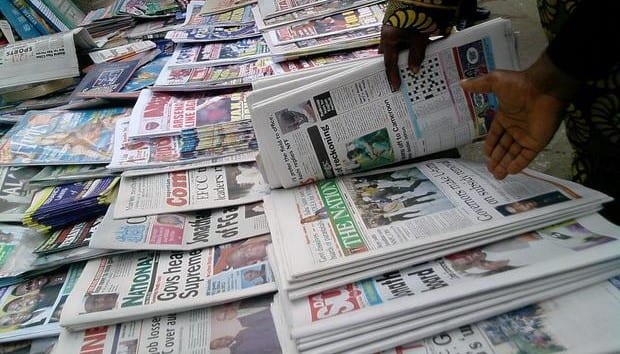 Mixed Reactions Trail Proposed Commission For Repentant Insurgents [LEADERSHIP]
Prominent Nigerians and youth groups have expressed mixed feelings over the plan by the Senate to pass a bill seeking the establishment of a special commission for the rehabilitation of repentant Boko Haram insurgents.
The bill, which passed its first reading in the Senate on Thursday, was sponsored by Senator Ibrahim Geidam (APC, Yobe East).
In the bill titled: "National Agency for the Education, Rehabilitation, De-radicalisation and Integration of Repentant Insurgents in Nigeria Bill," Geidam, a former governor of Yobe State, asked the Senate to endorse the agency to, among others, provide, recreational facilities and fine arts programmes for the repentant insurgents. He argued that the commission would maintain open lines of communication to gain a greater understanding of both the immediate needs for combating Boko Hararn as well as a tool for counter-radicalisation in the future."
He added that when established, the commission would "provide avenue for rehabilitating, de-radicalising, educating and reintegrating the defectors, repentant and detained members of the insurgent group Boko Haram to make them useful members of the society. Senator added that the commission would further  "provide avenue for reconciliation and promote national security. Provide an-open-door and encouragement for other members of the group who are still engaged in the insurgency to abandon the group especially in the face of the military pressure and gives the government an opportunity to derive insider-information about the insurgence group for greater understanding of the group and its inner workings."
Senate Declares Bayelsa Gov, Deputy's Seats Vacant [LEADERSHIP]
The Senate has declared vacant the seats of Bayelsa State governor, Senator Diri Douye and his deputy, Senator Lawrence Ewhrudjakpom,.
Already, the Independent National Electoral Commission (INEC) has said that it had received official communication of the Senate to that effect.
The Senate President, Senator Ahmad Lawan's communication declaring the seats for Bayelsa Central and Bayelsa West Senatorial Districts vacant, has prompted INEC to meet in order to determine the dates for bye-elections for the slots.
At his first meeting of the year 2020 with the resident electoral commissioners (RECs) in the 36 states and the Federal Capital Territory (FCT), INEC chairman, Prof. Mahmood Yakubu, said that they were still waiting for more announcements of vacant seats from the National Assembly.
"In compliance with the orders of the Supreme Court, the commission has presented certificates of return in respect of the governorship elections in Imo and Bayelsa States. In the case of Bayelsa State, both the governor and the deputy governor were serving senators.
CAN, Dunamis Take Over Welfare Of Andimi's Children [LEADERSHIP]
The Dunamis Gospel Centre and the Christian Association of Nigeria have pledged to assume the responsibility of training the children of Pastor Lawan Andimi, as well as relocate the family from the Northeast to a safer environment, to shield them from the trauma, inflicted on them by Boko Haram terrorists.
Pastor Lawan Andimi was the chairman of CAN in Michika local government area of Adamawa State, who was abducted by Boko Haram insurgents on January 3 and subsequently murdered in a cold blood for refusing to deny his Christian faith.
President of the Christian Association of Nigeria, Rev. Samson Ayokunle, made this pledge in Abuja while addressing a joint press conference with Dunamis International Gospel Centre, US/Nigeria Law Group and other foundations providing assistance to Boko Haram victims to mark second year anniversary of Leah Sharibu in captivity and advance advocacy on the dire security situation in Nigeria.
Represented by his vice, Rev Dr Caleb Ahima, the CAN president, said that the country is degenerating into anarchy.
"We are degenerating to a point of anarchy in this country. It is the responsibility of government to protect lives and property of citizens, but where this seems to have been ignored by those in authorities, we have every reason to passionately tell them that Christians in this country are Nigerians. They are part and parcel of this country and therefore should not continue to be eaten up by this evil that is consuming the people of this great nation, especially the church.
"CAN sat with Mrs Andimi and her family this week and advanced some money to help them and at the same time promised to educate all the children the late Rev left behind, as well as build a house for the family to move them out of their current location because of trauma. We want the world to know the evil that is happening in Nigeria, under the watch of a government that rose to power on the promise that if elected, it will stop the senseless bloodletting in the country, but instead more blood is being shed on a daily basis,"  CAN President lamented.
He said that it is a shame that there is a cloud of confusion that hangs over the nation, and the people that are saddled with the responsibility of governing this
country seem to be pleased with what is happening.
While tasking the government to live up to its responsibility of protecting citizens, the CAN President observed that Nigeria Constitution provides for freedom of association and freedom of worship.
He said that the Boko Haram terrorists want to  establish an Islamic State in Nigeria.
Earlier in his remarks, the Senior Pastor of Dunamis International Gospel Centre, Dr. Paul Enenche, lamented that there is shortage and bankruptcy of awareness on the dire security situation, high level of religious intolerance and extreme level of persecution of Christians in northern Nigeria.
Boko Haram In Deadly Two-Hr Operation At Yobe Checkpoint [THE NATION]
EYEWITNESSES who escaped Boko Haram ambush at Kaliyari, near Lantewa along Damaturu-Gashua Road on Friday have said that the insurgents mounted a checkpoint on the highway and operated freely for more than two hours.
Lantewa is 75 kilometres away from Damaturu, the Yobe State capital.
Some of the eyewitnesses of the operation said the insurgents staged the checkpoint operation with a rickety military vehicle within a range of about one kilometre, stopping motorists from both sides of the road and demanding their ID cards to know whether they are security operatives, civil servants or Christians.
One of the travelers, name withheld, who said he witnessed the operation for more than one hour before he was miraculously released by the insurgents, told our correspondent in Damaturu that they left the place unhurt because none of them had any form of ID card on them.
There's Been Drop In Influx Of Illegal Arms Since Border Closure — Buhari [THE NATION]
PRESIDENT Muhammadu Buhari has observed that the partial closure of Nigeria's land borders has helped to reduce the influx of illegal arms and ammunition used in banditry.
President Buhari stated this on Friday when he received President Roch Marc Christian Kabore of Burkina Faso at the Presidential Villa in Abuja.
The Burkina Faso President is the chairman of the Economic Community of West African States (ECOWAS) Committee mandated to resolve the issue of border closure between Nigeria and her neighbours.
President Buhari, according to a statement issued by his Senior Special Assistant on Media and Publicity, Mallam Garba Shehu, however said the decision to take any step on the situation would only be determined by report of tripartite committee made up of Nigeria, Benin and Niger Republic.
The President explained to his guest that Nigeria's decision to partially close the borders to goods from neighbouring countries was purely to safeguard national security.
My Landlord Beat Me To Pulp For Refusing His Love Advances – Mother Of Three [THE NATION]
A woman, Mrs Comfort Giwa, said she got the beating of her life when her landlord, Mr Adisa Lukman, openly brutalised her for allegedly turning down his love advances.
The incident, according to Comfort,  happened on February 9, 2020, while she was talking to a friend outside their residence at 3, Idiatu Kilani Street in the Fagba area of New Oko Oba, Agege, Lagos.
She said she was mercilessly beaten by the landlord during which she sustained varying degrees of injury on several parts of her body, including a wound on her arm.
She claimed that the man had made passes at her, which she rejected on several occasions, after which he threatened to deal with her.
''I started having issues with our landlord(Adisa), shortly after we moved into his house three years ago when he made several passes at me. He said he liked me and that he would like to date me but I rebuffed him knowing full well that I am a married woman living with my husband in his house.
''He was persistent in asking me out and at a point, I reported him to my husband. He then threatened that he would deal with me for spawning him. He has his own wife, yet, he had been disturbing, asking me to date him.
Herdsmen May Form Own Security Outfit Soon – Bodejo, Miyetti Allah Boss [SUN]
National President of Miyetti Allah Kautel Hore socio-cultural organisation, Abdullahi Bodejo, has said that the arrest of some Fulani leaders over the recent crisis in Plateau State where about 20 persons were killed, was discriminatory. Bodejo told VINCENT KALU, in an interview that if the Nigerian authorities don't stop the operations of Amotekun and Shege ka fasa, his group would come up with its own security outfit to protect its members. "If we are pushed to set up our own security outfit, nobody can control it because nobody knows how many Fulani are  in Nigeria; we are more than every tribe in this country, we are in every corner", he warned.
The Plateau governor, Simon Lalong has called for the arrest of Fulani leaders in the state following the killing of more than 20 people in the state by herdsmen. How do you react to this?
The governors are the chief security officers of their respective states; any one that calls for the arrest of anybody may have a reason for that. I read in the newspapers that Governor Lalong has called for the arrest of Fulani community leaders in the state, and not Miyetti Allah leaders.
I call for the arrest of the troublemakers in the state. The arrest shouldn't be one sided. It was not fair to have arrested only the Fulani leaders over the crisis; the other people were spared. I don't think these people they arrested are killers, let the police do a proper investigation. See how the Fulani are being treated, you hear the Amotekun promoters calling for the arrest of Miyetti Allah leaders, the same rubbish Ortom was using during his electioneering campaigns.
Panic In Ekiti As Armed Herdsmen Invade Community [SUN]
There was panic in Emure-Ekiti, Ekiti state on Thursday night when at least 10 herdsmen allegedly armed with guns stormed the town.
Saturday Sun gathered that the people of the town had to raise the alarm upon sighting the herdsmen. As a result, policemen were promptly called in to arrest the strangers who were later transferred to the state police command headquarters in Ado-Ekiti.
The State's Police Command Public Relations Officer, Sunday Abutu, who confirmed the development said, " the arrest of the herdsmen was true."
He however said "I cannot confirm if they are kidnappers, they appeared to be hunters from the north, we saw them with Dane guns. We cannot ascertain if they are kidnappers or not.  After investigations, we will know what they are up to."
Abutu further advised members of the public to always raise the alarm whenever they see strange faces in their environment, adding that : "the victims might end up being innocent, but, we can't know until after proper investigations are carried out."
Let North Forget 2023 Presidency –Ex-Kaduna Gov. Muktar Yero [SUN]
Former governor of Kaduna State and chieftain of the Peoples Democratic Party, Dr. Muktar Ramalan Yero, has said that what is important for Northern Nigeria is to find ways to get out of pervasive poverty and economic retrogression instead of insisting on retaining power in 2023. He told ABDULLAHI HASSAN in this interview that the North has potential to retain power but socio-economic challenges including insecurity could be a hindrance. Yero, a chartered accountant, one-time Commissioner of Finance and deputy governor to late Mr. Patrick Yakowa before emerging the governor. He spoke on 2023 elections, insecurity and party politics, among other national issues.
For some time, precisely since after the 2019 elections, you have not been active in   national and state politics, what happened?
I don't understand what you mean by saying people have not been hearing about me since 2019 elections. Anybody who lives in Kaduna and he knows that I live in Kaduna will see me because I always attend programmes and functions if I am invited, so anybody that lives in Kaduna sees me all the time.  Well, as a political party and individual, once an election is held and concluded what follows is the issue of governance, so it's no longer the issue of politicking. We are an opposition party, and people expect that whatever the government does is subjected to criticism, but I feel it's the time of governance which the party in power has a lot of responsibilities to all of us not necessarily to a political party and that's why I don't say much about politics. We allow the APC to do its governance and then we will observe and allow people see what they can do from now to 2023.
Minister Calls For More Investments In Cloud Computing [THE GUARDIAN]
The Minister of Communications and Digital Economy, Dr Isa Pantami on Friday called on more indigenous Information and Communications Technology (ICT) companies to invest in Cloud Computing.
Pantami who was represented by the Director-General, National Information Technology Development Agency (NITDA), Kashifu Abdullahi, made the call at the 5th edition of the annual event, `Nerds Unite 2020' organised by Mainone.He noted that ICT had taken over from oil.
The News Agency of Nigeria (NAN) reports that this year's Nerds Unite 2020, witnessed the launch of local content cloud `Azure Stake' in partnership with Microsoft and Hewlett Packard Enterprise (HPE).
Upswing Beats As Aje Festival Beckons [THE GUARDIAN]
The ancient and historical city of Ile Ife will be a 'Mecca' of sorts on February 24, when the yearly Aje Festival holds. The event will begin with spiritual prayers and cleansing of the entire Ife Kingdom at the palace of the Ooni before other activities flow. Having as the chief host, the Ooni of Ife, His Imperial Majesty Oba Enitan Adeyeye Ogunwusi Ojaja II, and Princess Dr. Toyin Kolade as host, the 2020 Aje Festival will no doubt herald a new breath of life into the commercial and economic activities not only in Ile Ife and environs but throughout Yorubaland and the whole of Nigeria.
Prayers are going to be offered by top spiritual leaders and royal fathers. The prayers are meant to seek God's intervention in the multifaceted challenges confronting Nigeria.
The Aje Festival is going to be an All-White attire affair reflecting purity, peace and unity. Market women and men are also expected to display their farm product, foodstuffs, goods, and products for the array of visitors who trooped into the Cradle of Yoruba race to savour the natural gift bestowed upon the flourishing land of Ile Ife.
Harry And Meghan To Stop Using 'Royal' Brand [THE GUARDIAN]
Prince Harry and his wife Meghan will no longer use the "Sussex Royal" label when they begin their new life outside the royal inner circle in the spring, their spokeswoman said Friday.
The couple will formally step down as senior royals from March 31 and will no longer carry out duties on behalf of Queen Elizabeth II after that date.
"The Duke and Duchess of Sussex do not intend to use 'SussexRoyal' in any territory post Spring 2020," said the spokeswoman.
They will also not use the name for their new non-profit organisation, due to be announced in the coming months, she added.
The couple currently use the name for their popular Instagram account and a website set up after their shock announcement. They also have made dozens of trademark applications for various products.
Abacha Loot: US Tackles FG Over Alleged $100m Largesse For Kebbi Gov [PUNCH]
The United States Department of Justice has alleged that the Federal Government led by the President, Major Gen Muhammadu Buhari (retd.), is planning to hand over about $100m out of the money looted by former Head of State, late Gen Sani Abacha, to Kebbi State Governor, Atiku Bagudu.
The US Department further stated that the Nigerian government was blocking attempts to recover part of the looted funds allegedly traced to Bagudu, who is the Chairman of the All Progressives Congress governor's forum.
The Department of Justice made the claim in court papers filed before the District Court for the District of Columbia in Washington, according to Bloomberg's reports.
Bagudu, who is a close ally of Buhari and a prominent member of the APC, was indicted by the US Government for helping Abacha to transfer billions of dollars in the mid 90s.
According to documents from the Department of Justice, Bagudu spent six months in federal detention in Texas while awaiting extradition to the Island of Jersey.
How Our Husband Chained Us Up, Put Pepper In Our Private Parts– Katsina Housewives Locked Up For 10 Months [PUNCH]
Two housewives, whose husband, Samaila Musa, allegedly locked up, chained and subjected to inhuman treatment for 10 months in the Rimi Local Government Area of Katsina State, recently urged a Katsina Upper Sharia Court to dissolve their marriage to the man. Fatimah Salisu, 25, and Hadiza Musa, 20, are currently seeking to divorce Musa for alleged cruelty and maltreatment. The Katsina Police Command had in January arrested Musa, 30, over allegations that he locked up the two women in a room where he chained them and meted out all sorts of maltreatment on them for 10 months. The two wives tell OLAIDE OYELUDE about the alleged ordeal in 10 months. Their counsel, Kabir Nelule of Hamisu Lawal Malumfashi Chambers, Katsina interpreted the interview done in Hausa
Hadiza: I'm from Kanyan Ubandaba village in the Rimi Local Government Area of Katsina State. I'm the fifth and last daughter of my parents. We (children) are one man and four women. All the women are married.