Jime Vs Ortom: Tribunal Admits INEC Voters' Register From 11 Local Govts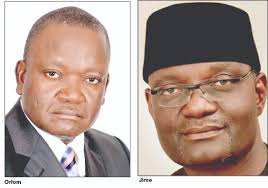 The Governorship Election Petition Tribunal sitting in Makurdi, the Benue State capital, has admitted in evidence the Independent National Electoral Commission (INEC) Voters Register from 11 local government areas, where Emmanuel Jime, is challenging the result of the 2019 governorship election.
The LGAs include Buruku, Gboko, Guma, Gwer East, Gwer West, Konshisha, Kwande, Logo, Ukum, Ushongo and Vandeikya.
The tribunal also held that PW15, Joe Abaagu, a legal practitioner, must not necessarily identify the voters' registers one by one in the polling units complained of by Emmanuel Jime before they are admitted in evidence.
There was a heated argument when Adebayo Adelodun applied to tender electoral  documents,  including   Certify True Copy (CTC) of Forms EC8C for Okpokwu, EC8B for Logo and EC8A for LGEA Primary School (005) Aman (result declaration forms), CTC of Voters Register for 384 polling units across the 11 councils as well as Card Reader report, electoral manual guidelines and list of all payments of certification through the witness.
Although INEC through its lead counsel, Rotimi Oguneso SAN, did not object, counsel appearing for Samuel Ortom, Sabastine Hon SAN and Oba Maduabushi SAN for PDP, raised objection to admissibility and procedure through which the documents were sought to be tendered.
Hon said apart from one Voters' register, Abaagu did not open the envelops to identify the other documents.
He argued that the petitioners did not make pleadings with respect to voters' register.
He urged the tribunal to in the interest of justice reject the voters' registers "except for those few documents (result sheets and guidelines) we conceded".
On his part, Maduabuchi aligned himself with the objections of Hon.
He concurred with counsel to Ortom that it is only one voters' register that Abaagu identified and insisted that the witness did not relate it to any particular local government area.
Justice Henry Olusiyi held that he is satisfied that Abaagu properly identified the documents in question when he stepped out of the box and identify them.
According to the tribunal chairman, it is permissible to identify the documents in bulk given the "sui generis" nature of election petitions.
He held that the documents in question were pleaded and relevant.
The tribunal declined to admit in evidence CTC of Documentary Data from Card Reader Machine obtain from ICT unit of INEC.
The matter has been adjourned till today for cross-examination of PW15 (Joe Abaagu).