Equities Market Wanes By 2.41% W-O-W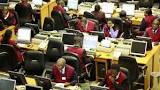 The Nigerian equities market last week continued its bearish run as sentiments remained weak, extended losses from the previous week with a decline of 2.41 per cent week-on-week (W-o-W).
Hence, the overall market performance measure, NSE-ASI, plummeted to 28,566.79 points, having lost 704.16 points or 2.41 per cent W-o-W. However, market capitalisation rose by N1.02 trillion to close at N13.922 trillion last week mainly due to the listing of 3.7 billion shares of Airtel Africa valued at N1.4 trillion.
Sector performance was generally poor. NSE Insurance Index, NSE Consumer Goods Index, NSE Oil/Gas Index and NSE Industrial Index closed in negative territory as they plunged by 2.42 per cent, 5.01 per cent, 3.13 per cent and 2.02 per cent to 119.59 points, 574.38 points, 243.48 points and 1,100.83 points respectively. On the other hand, Banking sector closed in positive territory, rose by 0.78 per cent to 349.60 points.
Market breadth closed negative with 18 gainers and 39 losers. Sovereign Trust Insurance led the gainers table by 9.52 per cent to close at 23 kobo per share. Union Bank of Nigeria (UBN) followed with a gain of 9.49 per cent to close at N7.50, while Cadbury Nigeria rose by 8.64 per cent to close at N11.95, per share.
On the other side, Forte Oil led the decliners table by 23.33 per cent to close at N20.70, per share. Glaxo SmithKline Consumer Nigeria followed with a loss of 18.63 per cent to close at N8.30 and Nigerian Aviation Handling Company (NAHCO) declined by 16.88 per cent to close at N2.66, per share.
Overall, a total turnover of 988.491 million shares worth N13.839 billion in 16,414 deals were traded last week by investors on the floor of the Exchange in contrast to a total of 1.025 billion shares valued at N9.911 billion that exchanged hands previous week in 19,375 deals.
Outlook for the week
In the new week, analysts at Cowry Asset Management Limited expected domestic shares to rise as investors anticipate the announcements of the President's ministerial appointees as well as H1 corporate results.
Analysts at Afrinvest Limited believed that "The bearish run would persist as investors maintain a risk-off approach towards investing in the domestic equities market. Nonetheless, we expect that investors would resume bargain hunting due to sharp losses recently."