Sultan, Islamic Scholars Back FG On Proscription Of Almajiri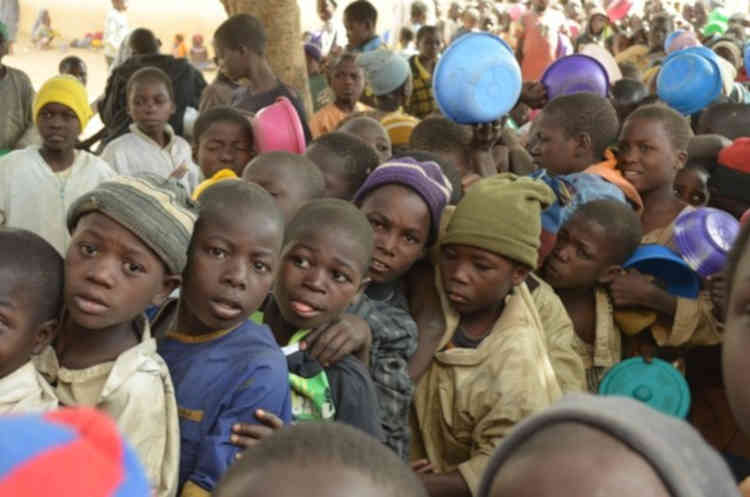 The Sultan of Sokoto, Sa'ad Abubakar 11 and other notable Islamic scholars and stakeholders have endorsed the federal government's move to ban Almajiri system of education in the country. They said that the practice has no place in Islam and should, therefore, not be encouraged and entrenched.
Before now, the Sultan of Sokoto and president-general of the Nigeria Supreme Council for Islamic Affairs (NSCIA) Sa'ad Abubakar 11 had disputed the notion that Almajiris are out in search of Qua'ranic education, Leadership reporters.
The Sultan, who was very empathic in his condemnation of the system, stated that the Almajiris were rather out to beg for what to eat.
When he hosted security chiefs, community leaders and media executives in Sokoto to a Ramadan dinner in his palace, the Sultan had admonished parents to be responsible enough in shouldering the responsibilities of their families.
"Almajiris are not searching for Qu'ranic education as alleged. They are simply searching for food because I see them roaming the streets every day," he said.
Afripost recalls that President Muhammadu Buhari had on Thursday charged state governors to provide free basic education for children and hinted of plan by his administration to ban almajiris from roaming the streets instead of being in school.
In a reaction to the federal government's decision to outlaw Almajiri system, the Adamawa State Muslim Council, described it as welcomed development.
Ustaz Abdullahi Damare, the public relations officer of the council, said that the Almajiri education system is denying the younger ones formal education at all levels.
Also Read: Insecurity: FG Moves To Proscribe Almajiri, Others
He therefore urged the government to revisit Almajiri programme of former President Goodluck Jonathan and thread softly in the process of it implementing the ban.
"Government should be cautious of the way and manner it implements the ban to ensure total acceptability by all. Formal education teachers and members of the Muslim councils should constitute the monitoring and evaluation team to ensure strict implementation," Damare said.
The Chief Imam of Abu Ubaydah Bn Jarah Mosque in Kaduna Bypass, Malam Khamis Saeed Muhammad Almisri, said that he supported the government's plan to ban almajiri system because it has no basis in Islam.
Citing the Quran and the Hadiths, Almisri said that there was a time when a man met Prophet Muhammad and said that he had nothing to eat and would want to start begging.
According to him, the prophet told him that it was better for him to sell firewood than to beg because "begging is not part of Islam.
"This is to show that Islam does not support begging and even if one has to beg, he must have met some certain conditions such as either he was rich and a calamity befell him, then if he begs to feed his family, he should be given.
"Most of these almajiris are being victimized, some are used for homosexual, ritual as well as to carry atrocities by Boko Haram," he said.
Almisri said that the government's decision was in order but called for consultation with the major stakeholders on how to implement the ban.
He blamed the parents for bringing up their children for street begging, stressing that it was because the children were not shown love that they end up as armed robbers and kidnappers.
"Statistics have shown that there are about 13 million children who beg on the streets and are mostly from the North and are Muslims; we should not allow that but rather we should support the government to curb the menace," he said.
The Chief Imam of Kaduna Polytechnic, Malam Abubakar Sadiq Doka, said most of the teachers were pushing the children to go into begging because they don't give them food provided for the almajiris by their parents for their upkeep.
Abubakar urged the government to start from reforming the process before banning street begging because "if there is no alternative before the ban, it will be as good as nothing has been done.
"I will support the government in doing this because street begging has never been part of Islam neither is it written in any of the scriptures," he said.
Another concerned Muslim, Muhammad Shamsuddin Ibrahim, who is currently working on a project he called "Inculcating western education", said that he considers the move by the government as "incompetent and acted upon without reasoning."
Muhammad likened eradicating the almajiri system to eliminating Islam in Nigeria, which, he declared as impossible.
He said: The move is targeted at the eradication of security challenges we are facing in the country, but to my dismay when such intention is analysed critically, it is just an effort towards incubation and nursing of a new form of Boko Haram because such a system is faulty because of poor leadership and the fact that the dividends of democracy don't get to the plebeians; they are held captive with poverty.
"Such a system isn't expected to be banned rather transform it to something better. Instead of banning the system, it should be transformed to meet the needs of the country. I can surely attest to the fact that the system only needs transformation.
"Banning it might lead to something worse than the Boko Haram we have been battling with. Banning almajiranci in Nigeria is a very bad move. What we need to do are the following: build the teachers' capacity and infrastructure to take these kids off the street; integrate western and Islamic education, and work with critical stakeholders to be ambassadors of the change."
Muhammad called for a ban on street begging, migration of children from one state to the other for Islamic education; inclusion of qualified malams in government's payroll.
Ha added that Islamic teachers should be treated like public school teachers, adding that "we need them to see it as progress and not a threat to their survival. The government should make primary and junior secondary education free."
The secretary of the Malaman Tsanagaya, Kaduna State chapter, Imam Bukhari said that they were surprised to hear such a plan
Bukhari said: "The government should have called the teachers of the almajiris and heard their views before arriving at such an idea."
He asserted that most of the children begging on the streets were not almajiris. "They are other children who mask themselves as almajiris to beg for food because they are hungry due to hardship caused by bad leadership in the country."
The Kaduna State Adviser on Islamic Affairs, Sheikh Jamilu Abubakar Albaniy, said that the street begging sure has its own negativities, adding that the government ought to have sat with the teachers to hear their side of the story before resorting to a ban.
He said that there were cases where the almajiris stay in their teachers' houses without taking to begging, The government, according to him, look into the matter by selecting those who stay in their teachers' homes to learn and those who resort to begging.
Stakeholders in Kebbi State hailed the federal government for taking the bold step. Those, who opposed the move, however, called for caution.
A resident and mother of five, Nafisa Yau, said that Almajiris should be banned because of the threat they pose to other young children. As a mother, Mrs Yau said that she was always full of pity for the young boys who are brought to the town from villages in the name of Almajiri (seeking for Islamic knowledge).
According to her, many of the children end up not even getting the Islamic knowledge as they are neglected, abused and dehumanised by their masters.
One of the almajiris in Sokoto said that he was brought to Sokoto from Kano and had stayed in the state for almost three years. He said that he wished he could go back to his parents and return to school like the children he sees every morning going to school in the company of their parents.
Another one, Usama Suleiman 13, who hails from Tungar Gado village of Argungu local government area of Kebbi State was brought to Birnin Kebbi, the Kebbi State capital as Almajiri.
Suleiman said that he was not aware about the plan to ban Almajiri by the government. He, however, welcomed the idea.
The teenager said that he was brought to the town and handed over to his Islamic teacher, lamenting that because the teacher cannot cater for his feeding, he sends him out to beg and do domestic work at homes to get money to buy the things he needs.
He said that he preferred to remain in his village with his parents and also go to school to acquire western education.
''I am not aware of anything like ban because nobody told me. If they (government) do it; I like it so that I will remain with my parents and get Islamic education and even go to government school. We face a lot of hardship in the morning before we eat. We have to go to various houses to wash clothes, sweep the environment, fetch water and do menial work to eat. We want government to help us," he said.