Apex Court Sacks Niger, Edo Reps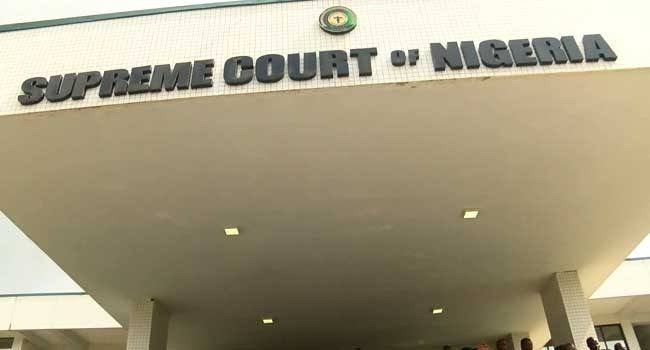 The Supreme Court on Friday sacked two newly inaugurated members of the House of Representatives.
The apex court which delivered judgement in two separate pre-election matters decided cases against the member sworn-in to represent Akoko-Edo federal constituency of Edo State, Hon. Kabiru Adjoto and his counterpart from Magama/Rijau federal constituency of Niger State, Hon. Sheu Saleh Rijau.
Sequel to the judgements, Comrade Peter Akpatason, has been returned to the Lower House for the third term to Adjoto while Alhaji Jafaru Iliyasu replaced Hon. Rijau.
In the case of Akpatason, the apex court upturned the decision of the Court of Appeal, Benin Division, which recognized Adjoto as the candidate of the All Progressives Congress (APC) in the 2019 general elections.
The court awarded a cost of N2 million to Akpatason.
According to the judgment prepared by Justice Paul Adamu Galinje and delivered by a panel of justices led by Justice Kumai Bayang Akaahs, the decision of the Court of Appeal was upturned while judgment of the trial court was upheld, Leadership reports.
He said: "This appeal is allowed; the decision of lower court of 6th October, 2018 is upheld. The cost of N2 million is awarded against the respondent."
The Independent National Electoral Commission (INEC) had declared Akpatason winner of the Akoko-Edo federal constituency election, having polled a total of 27,097 votes to defeat his closest rival, Oladele Bankole-Balogun, of the Peoples Democratic Party (PDP), who scored 16,053 votes.
However, the appellate court nullified the candidacy of Akpatason and declared Adjoto as the candidate of the APC. The Court of Appeal also nullified the APC National Assembly primaries election appeals committee headed by former governor of Edo State, Prof. Oserheimen Osunbor.
In the same vein, the winner of the House of Representatives' primary election by the APC for Magama/Rijau constituency of Niger State, Alhaji Jafaru Ilyasu, on the platform of the APC  had protested his substitution with Shehu Saleh who did not contest the poll, but was rewarded with automatic ticket of the party.
Saleh having lost the APC senatorial ticket was compensated with the return ticket to the House of Representatives.
Ilyasu, therefore, challenged Saleh's nomination and won at the trial court. But the Court of Appeal upturned decision of the trial court.