Details Of Buhari's Meeting With Security Chiefs On Thursday Emerge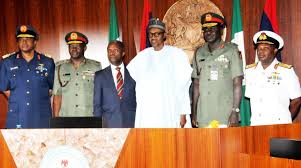 President Muhammadu Buhari on Thursday, met with service chiefs at the State House in Abuja.
The meeting, which lasted for about three hours, dwelt on plans to forestall future security incidences in Zamfara, Sokoto and the Birnin-Gwarinpa axis.
The Public Relations Officer to the Minister of Defence, Colonel Tukur Gusau, in a statement noted that Operation Sharan Daji would now be extended to reach the fringes of the Niger border.
It also said security agencies have been directed to increase patrols along the Abuja- Kaduna highway to reduce criminal activities.
Gusau disclosed that the Defense Minister, Mansur Dan Ali, requested for provision of more security equipment for the Armed Forces.
"The operation has recently been reinforced with more troops from the Nigerian Armed Forces, Nigeria Police and Department of State Services and is supported by the Intelligence, Surveillance and Recognisance Wing of 207 Quick Response Group of the Nigerian Air Force.
"There was a review of Operation Safe Haven leading to the appointment of a new Commander in the North Central.
"The Honourable Minister also reiterate the need for the deployment of the Nigeria Police and the Nigeria Security and Civil Defence Corps in all areas liberated by the military in the North-East in order to consolidate on the gains of military operations as well as to enable the military push forward in its clearance operations," the statement read.
Culled from Daily Post